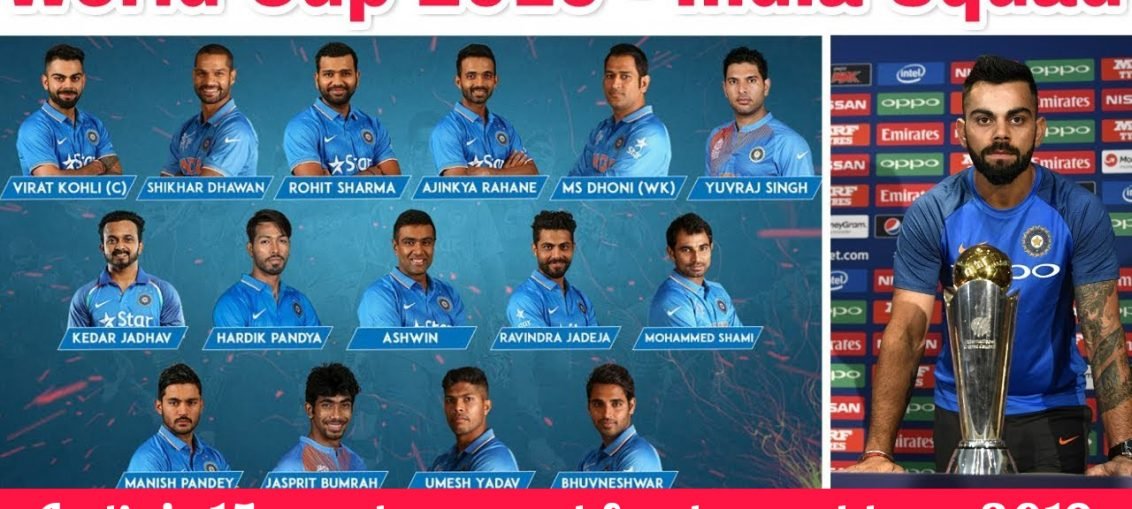 World cup 2019 is going to begin on May 30 in the United Kingdom & India's world cup squad is announced today. There was a tremendous prediction among the cricket fans, Ex-cricketers about who will be selected in the 11.
BCCI's selection committee convenes on Monday to pick India's 15 member squad for the world cup 2019.
The top eleven are-
1. Skipper of Indian cricket team – Virat Kohli
2. Former captain MS Dhoni (Wicket-Keeper)
3. Opener right hand batsman- Rohit Sharma
4. Opener Left hand batsman- Shikhar Dhawan
5. Kedar Jadhav
6. Jasprit Bumrah
7. Hardik Pandya
8. Mohammed Shami
9. Kuldeep Yadav
10. Yuzvendra Chahal
11. Bhuvneshwar Kumar
Six players — KL Rahul, Rishabh Pant, Dinesh Karthik, Ravindra Jadeja, Vijay Shankar and Ambati Rayudu — are in contention for the remaining four spots.
Rohit Sharma (Vice-captain), Sharma has scored 1586 runs with an average of 58.74 since January 2018.
Dhawan was India's top-scorer during the 2013 Champions Trophy win in England, With 363 runs. Shikhar Dhawan has scored 1317 with an average of 43.9 in the same time frame.
The number 4 position always be in debate a lot of people tried for the position but the selection committee picked Ambati Rayadu for number 4 to bat.
National selector Kiran More selected Rishabh Pant over Dinesh Karthik for the second wicket keeper.
ICC rules require pitches for events like World Cup to be standardised at all venues but Lal said weather will be a factor. "You can't standardise the conditions. It could be cloudy one day; there could be some dampness so you never know. Length will be very important there since you have to bowl in a certain corridor when that happens," he said.
Wrist spinners Kuldeep and Chahal are Kohli's bowling aces for this World Cup. It remains to be seen if the management backs Ravindra Jadeja. "Apart from Hardik, Jadeja is the only complete all-rounder in this squad. We should never leave him out," said Madan Lal.