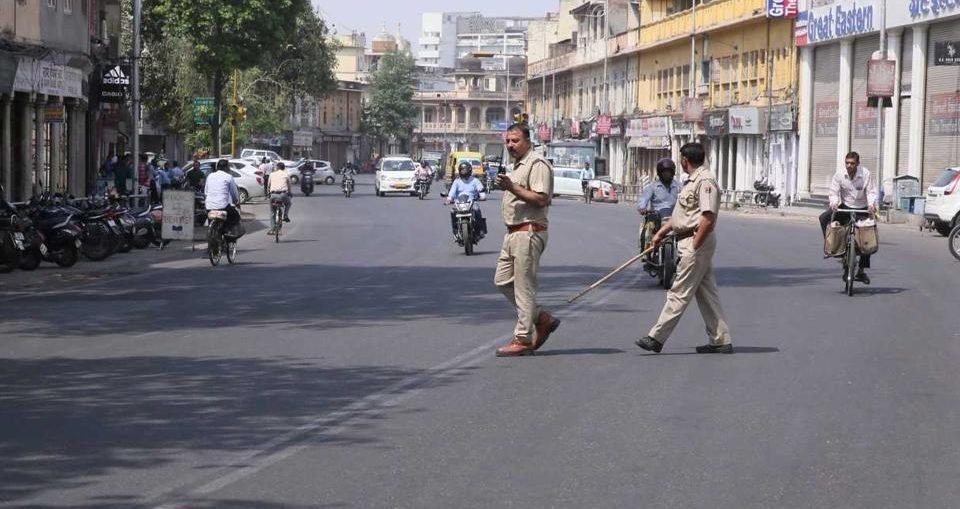 Curfew to continue in three districts of Madhya Pradesh; Rajasthan police ban processions; reports of clashes in Bihar's Arrah.
Security has been beefed up, prohibitory orders issued, internet suspended and schools shut in various parts of the country in view of Bharat Bandh on Tuesday.
The protest shutdown was called against the violence during a bandh called by Dalit groups on April 2 and also against caste-based reservation in education and jobs.
The protest call was mostly circulated through social media and no organisation has come forward to support it. Police, however, are not taking chances.
Bihar
In Bihar, over a dozen people were injured in a violent clash.Supporters, mostly upper castes youths, blocked roads and forcibly enforced the nationwide shutdown in Ara town, Bhojpur district.
"More than a dozen people were injured in the violent clash between supporters of the Bharat Bandh and a pro-reservation group comprising OBCs and Dalits," a district police official said.
Additional security have been deployed in Ara.
Madhya Pradesh
Bhopal Deputy Inspector General of Police Dharmendra Dubey said social media messages are being monitored and people have been warned that those spreading hate messages would be booked under Section 188 (disobedience to order promulgated by public servant) of the Indian Penal Code. Madhya Pradesh bore the brunt of the April 2 violence leading to the death of eight people and injuries to scores, including 54 policemen.
Ajatshatru, Divisional Commissioner of Bhopal, said prohibitory orders under Section 144 had been clamped in the city for Tuesday, but services including schools, government offices and banks would operate as usual. Section 144 of the Indian Penal Code prohibits assembly of five or more people.
Sudhir Lad, Deputy Inspector General of Police, Chambal range, said curfew would be effective in Bhind from 9 pm on Monday to 6 pm on Tuesday to avoid any untoward incident. He said Internet services have been blocked in the Chambal region to prevent rumour mongering. Three people had died in Bhind in violence during the April 2 shutdown.
Section 144 had been imposed in Sagar district and curfew would be in place in Morena too, officials said.
Rajasthan
Section 144 has also been imposed in Rajasthan's Jaipur and Bharatpur, and Uttarakhand's Nainital, reports ANI.
In Bharatpur, prohibitory orders have been imposed till April 15 and Internet services suspended till 9 am. The district administration has put a complete ban on processions and warned of "strict action" against lawbreakers.
Prohibitory orders have also been imposed in Jaipur city. Mobile internet services have been blocked for 24 hours since Monday night as a precautionary measure, an official said.
"For the last few days, police have held meetings with market associations, transport organisations, political organisations and other groups in all the districts asking them to maintain law and order," Additional Director General of Police, Law and Order, NRK Reddy told PTI.
ANI reported that markets in Jhalawar remained shut, as protesters held a bike rally.
Uttar Pradesh
In Firozabad, Uttar Pradesh, schools for students of classes I to IX remained closed on Tuesday, reports ANI.
Better safe than sorry
The Ministry of Home Affairs (MHA) had issued an advisory to all states asking them to make necessary arrangements and issue prohibitory orders, if necessary. It had said district magistrates and superintendents of police will be personally held responsible for any violence in their areas of jurisdiction.
The missive came a week after a Bharat Bandh called by groups opposing alleged dilution of SCs/STs (Prevention of Atrocities) Act by a Supreme Court order saw massive violence in different parts of the country leading to the death of about a dozen people.