Trump's tweets anger UK after London Underground train attack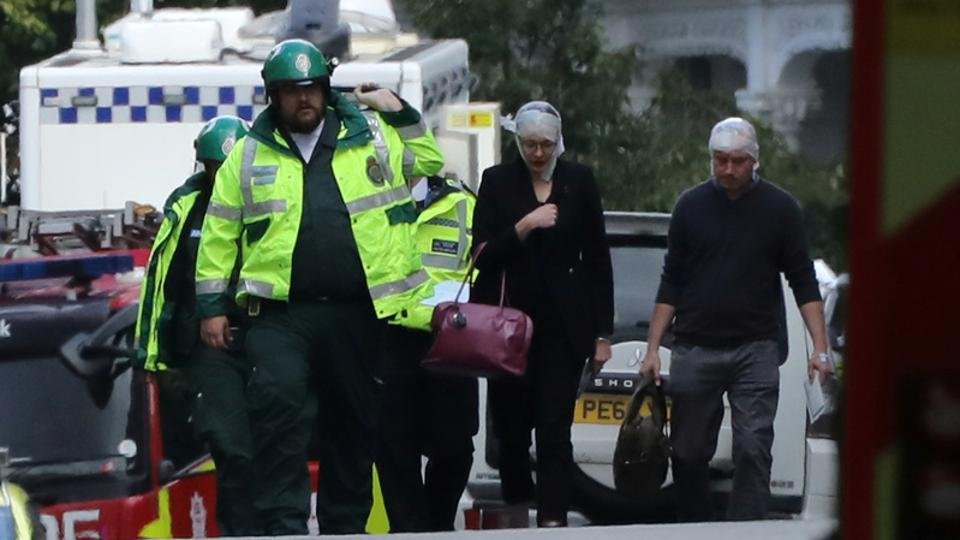 An injured woman is led away after an incident at Parsons Green underground station in London, Britain, September 15, 2017.
'Must be proactive': How Trump's tweets angered Britain after London attack, drew PM May's rebuke
President Donald Trump sparked fury in London after he claimed "loser terrorists" behind a botched London train attack were known to British police. Trump took to Twitter to condemn an attack on a packed London Underground train that injured 22 people, but also appeared to suggest the UK authorities had dropped the ball. That electronic broadside brought a terse public response from May, who warned the US president and others not to speculate. "I never think it's helpful for anybody to speculate on what is an ongoing investigation," May told journalists in London. Read the story here.
London attack: Eyewitnesses say lots of screaming, people covered in blood
Scotland Yard declared an explosion on the arterial District Line of London's Tube network on Friday as a terror incident, which injured several passengers and hit morning rush hour, reminding some of the panic caused by the July 2005 attacks. The blast in a white canister at Parson Green Station in south-west London caused burn injuries to some passengers. Eyewitness Sham told BBC: "At first I thought they were in a bit of a rush or whatever but actually looked and the whole staircase was full of people. There were people on the floor, all like toppling over each other just trying to get out as quickly as they could and there were loads of people crying and shaking". Read the story here.
China reacts to India-Japan cooperation in northeast, says no room for 'third party'
China on Friday warned third parties against meddling in its boundary dispute with India, specifically mentioning the Arunachal Pradesh sector in an apparent response to Indo-Japanese plans to invest in infrastructure projects in the northeastern states. A joint statement issued on Thursday following talks between Prime Minister Narendra Modi and his Japanese counterpart Shinzo Abe announced the setting up of the Act East Forum and referred to plans to take up infrastructure projects such as road connectivity and electricity in India's northeastern states. Read the story here.
Pehlu Khan's family wants Supreme Court to order fresh murder probe
Haryana dairy farmer Pehlu Khan's family wants the case on his murder shifted out of the Rajasthan after six accused named by Khan got clean chit from the state police. The family's quest for justice has now brought them to the national capital. Khan's eldest son Irshad told reporters here on Friday that they have no faith felt in the CID, Crime Branch of the Rajasthan police and wants the Supreme Court to order a fresh probe into the ruthless murder of his father. "People who are accused are threatening us regularly. We are living in a miserable situation. The local Police are not helping us," Irshad said as his mother Jebuna looked on in despair. Read the story here.
After PAN, driving licences to be linked with Aadhaar: Union minister RS Prasad
In a bid to check the menace of multiple driving licences being issued to individuals, the central government will soon introduce linking of Aadhaar with driving licences, Union minister Ravi Shankar Prasad said on Friday. The Minister for Electronics and Information Technology said that after linking PAN with Aadhaar, the government would now link Aadhaar with driving licences. Speaking at the "Haryana Digital Summit-2017" here, Prasad said: "I have already had a word with Union Minister for Road Transport and Highways Nitin Gadkari in this regard and the process to link Aadhaar with driving licences would be set in motion soon. Aadhaar is a safe and secure tool for good governance and empowerment." Read the story here.