Opposition MPs protest overnight outside Parliament over Sanjay Singh's suspension, Manipur crisis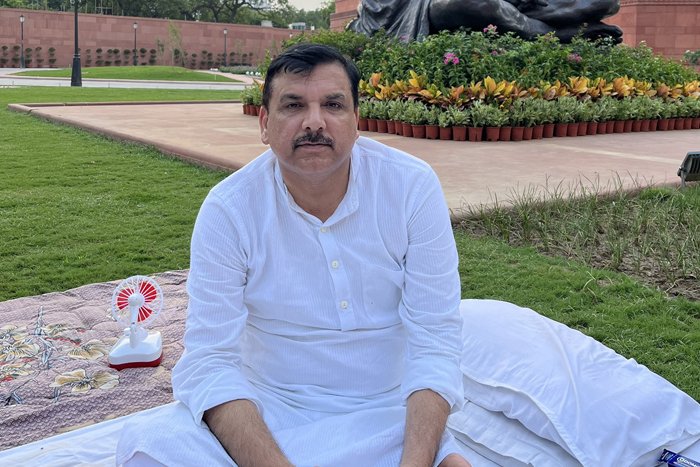 A group of opposition leaders protested overnight outside the Parliament against the suspension of Aam Aadmi Party (AAP) MP Sanjay Singh from the Rajya Sabha for the remaining monsoon session, and over their demand from Prime Minister Narendra Modi to open a debate on Manipur in the House.
We MPs from across parties of Team INDIA took turns to sit together in solidarity with @AamAadmiParty MP @SanjayAzadSln through the entire night after he was shockingly & unfairly suspended merely for asking PM Modi to discuss Manipur in Parliament.

We all stand united in… pic.twitter.com/SQS1wSzs3J

— Saket Gokhale (@SaketGokhale) July 25, 2023
"We are sitting here since yesterday. Our only demand is that PM Modi should speak on the Manipur issue. We will keep protesting here and I am still requesting PM Modi to come to the Parliament and talk on Manipur," Sanjay Singh told news agency ANI.
AAP MP Sanjay Singh's suspension
The AAP MP was suspended from the Rajya Sabha for the remaining duration of the Monsoon session on Monday for repeatedly "violating" the directives of the chair. Singh's suspension came after Leader of the House Piyush Goyal moved a motion in this regard and it was adopted by the House by voice vote.
According to Singh, he was "repeatedly requesting the Chair (Rajya Sabha Chairman Jagdeep Dhankhar) for discussion on Manipur violence and demanding that the prime minister come to the House and give a reply".
"When the Chair didn't listen to me, I went closer to the Chair to request him to allow me to speak under Rule 267 for which I had given a notice," he said.
Logjam in Parliament
Massive ruckus rocked the Parliament on Monday – for the third day – with relentless protests from the opposition members, who have been insisting on a statement from PM Modi on the Manipur issue, before any debate. Amid this, union home minister Amit Shah in a brief statement in the Lok Sabha on Monday said that he was "prepared for a debate on the violence in Manipur" and urged Opposition leaders to allow a discussion on the issue.
"I am ready for a discussion in the House. I do not know why the opposition does not want to allow a discussion. It is my appeal to the opposition leaders to allow a discussion on this important issue and let the truth on the matter be placed before the nation. It is very important," he said.
Manipur crisis
Severe tensions mounted in Manipur last week after a May 4 video surfaced showing two women from one of the warring communities in the northeastern state being paraded naked by a mob of men. The Manipur police have arrested seven people in connection with the incident so far.
Article source: hindustantimes.com