Navratri 2023 Day 1: Mata Shailputri Puja Vidhi, Colour Of The Day, Mantras, Shubh Muhurat, and Bhog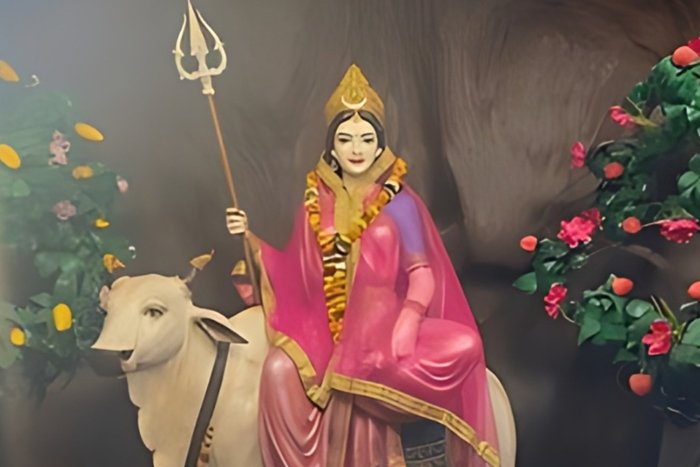 Navratri, a 9-night festival, is here, and followers of Maa Durga, also referred to as Adi Shakti, are getting ready to celebrate it with grandeur. Hindus observe four Navratris annually, but two of them stand out in terms of their grand scale- Chaitra Navratri and Shardiya Navratri. The imminent festival is the Shardiya Navratri, which occurs during the autumn season in the lunar month of Ashwin.
Shardiya Navratri commemorates Goddess Durga's triumph over the demon Mahishasura, which is why she is also known as Mahishasura Mardini. This year, the Navratri festivities span nine days starting from October 15 to October 23, with each day dedicated to one of the nine forms of Maa Durga, known as Navdurgas. The celebration commences with Ghatasthapana and concludes with Maha Navami.
Navratri Day 1: Date
Navratri is celebrated twice a year, during Chaitra Navratri in the Spring and Sharad Navratri in the Autumn. Day 1 of Navratri marks the beginning of this nine-day celebration. In 2023, Sharad Navratri commences on October 15, with the first day dedicated to Mata Shailputri.
NAVRATRI DAY 1: MATA SHAILPUTRI
Navratri Day 1 is a day of new beginnings, marked by the worship of Mata Shailputri, the divine daughter of the Himalayas. Devotees seek her blessings for purity, strength, and prosperity in their lives. With elaborate puja vidhi, mantras, significance and offerings, this day sets the tone for the nine-day celebration of Navratri, during which devotees invoke the divine feminine energy to bring positivity and light into their lives. It is a time of deep devotion, introspection, and celebration that unites people in the worship of the Goddess.
Navratri Day 1: Puja Vidhi (Rituals)
The puja begins with devotees taking a vow to perform the nine-day worship with devotion, purity of heart, and a clear conscience.
On the first day, a clay pot or kalash is established, symbolizing the presence of the Goddess.
This Kalash is filled with water, and barley seeds are sown into it.
A picture or idol of Mata Shailputri is placed on the altar and decorated with flowers and jewellery.
The puja is performed with the recitation of various mantras and hymns dedicated to Mata Shailputri.
The most commonly chanted mantra is "Om Hreem Kleem Shailputryai Namah."
Aarti, a ritual of waving a lit lamp in front of the deity, is performed with devotion and singing of hymns.
Devotees offer flowers, fruits, coconut, and sweets to the Goddess.
Navratri Day 1: Significance
Mata Shailputri is the first form of Goddess Durga and is considered the embodiment of purity and power. The word 'Shail' means 'mountain,' and 'Putri' means 'daughter.' She is said to be the rebirth of Goddess Sati, the daughter of King Daksha. The significance of worshipping Mata Shailputri lies in seeking strength and purity in one's life.
Navratri Day 1: Shubh Muhurat (Auspicious Timing)
The most auspicious time for Ghatasthapana on Navratri Day 1 is during the Pratipada Tithi (the first day) of the Sharad Navratri. Generally, it is done during the Abhijit Muhurat, which is considered highly favourable. The shubh muhurat on Ghatasthapana is anticipated to take place between 11:44 AM and 12:30 PM, according to Drik Panchang. Apart from this, the other timings are given below:
Pratipada Tithi Begins – 11:24 PM on Oct 14, 2023
Pratipada Tithi Ends – 12:32 AM on Oct 16, 2023
Chitra Nakshatra Begins – 04:24 PM on Oct 14, 2023
Chitra Nakshatra Ends – 06:13 PM on Oct 15, 2023
Vaidhriti Yoga Begins – 10:25 AM on Oct 14, 2023
Vaidhriti Yoga Ends – 10:25 AM on Oct 15, 2023
Navratri Day 1: Bhog (Offerings) to Mata Shailputri
Devotees offer various bhog to Mata Shailputri as a symbol of their devotion and gratitude. Some of the common bhog items include:
Offer pure milk to the Goddess to symbolize purity.
Honey is offered to represent sweetness and a happy life.
Ghee signifies prosperity and abundance.
Sugar is offered to bring sweetness and joy into one's life.
A mix of seasonal fruits is offered as a symbol of good health.
Coconut is a symbol of success and prosperity.
Navratri Day 1: Mantras
Here are some Navratri mantras that you can chant during the festival:
Om Jai Maa Durga
Om Namah Shivaya
Om Shakti Patte Namah
Om Jayanti Mangala Kali Bhadrakali Kapalini Durga Kshama Shiva Dhaatri Swaha Swadha Namostute
Om Ye Devi Sarvabhuteshu Maa Durga Rupena Samsthita Namastasyai Namastasyai Namastasyai Namo Namah