India records highest single-day rise with over 1.45 lakh fresh Covid-19 infections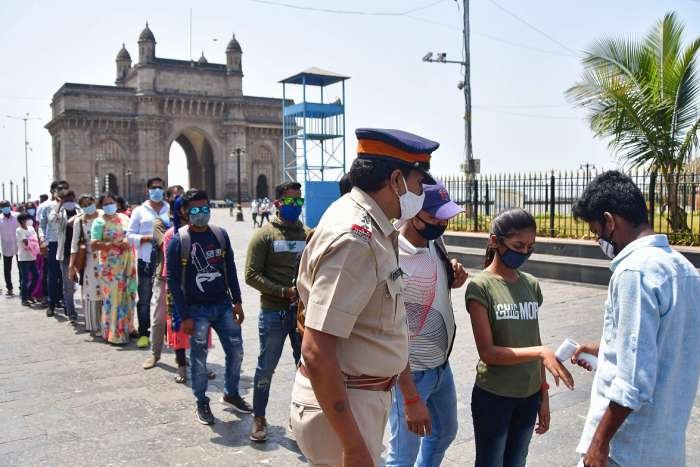 India records highest single-day rise with over 1.45 lakh fresh Covid-19 infections
India's active Covid-19 tally, for the first time after September 2020, has crossed the 10-lakh mark.
Continuing the upward trend of daily infections, India on Saturday reported 1,45,384 fresh cases, the highest single-day spike ever, taking the overall tally to 13,205,926. This is the fifth time since the beginning of the pandemic in 2020 that India's 24-hour tally crossed the 1 lakh-mark. On April 5, there were 1,03,558 fresh infections, while on April 7, 1,15,736 infections were reported. On April 8 and 9, the 24-hour tallies were 1,26,789 and 1,31,968, respectively.
With Saturday's rise, the active cases in the country crossed the 10 lakh-mark and reached 10,46,631, which is 7.93 per cent of the total cases. Daily fatalities too registered a rise as 794 deaths were reported in the last 24 hours.
For the first time since September, the number of active coronavirus cases crossed the 10 lakh-mark on Saturday. On September 20, 2020, there were more than 10 lakh cases, as the country at that time was reeling under the peak of the first wave of the pandemic.
The number of active cases saw a sharp decline in January as more and more people recovered from the infection and with the virus being effectively contained, there were fewer daily cases. On February 12, there were 1,25,926 active Covid-19 cases. The addition of 9 lakh active cases to the cycle in only two months is worrying as it suggests that the infection is spreading rapidly, while the recovery rate is not being able to keep up. The gap between daily infections and daily recoveries too confirms the disparity as against 1,45,384 new infections, India recorded 77,567 discharges in the last 24 hours.
Maharashtra and Chhattisgarh are contributing the highest number of daily cases to the tally. On Friday, Chhattisgarh reported 11,447 new infection in its highest ever spike, and Maharashtra reported 58,993 new cases.
In the last 24 hours, over 11 lakh samples have been tested, which is lower than Friday's count as over 13 lakh tests were done between Thursday and Friday.