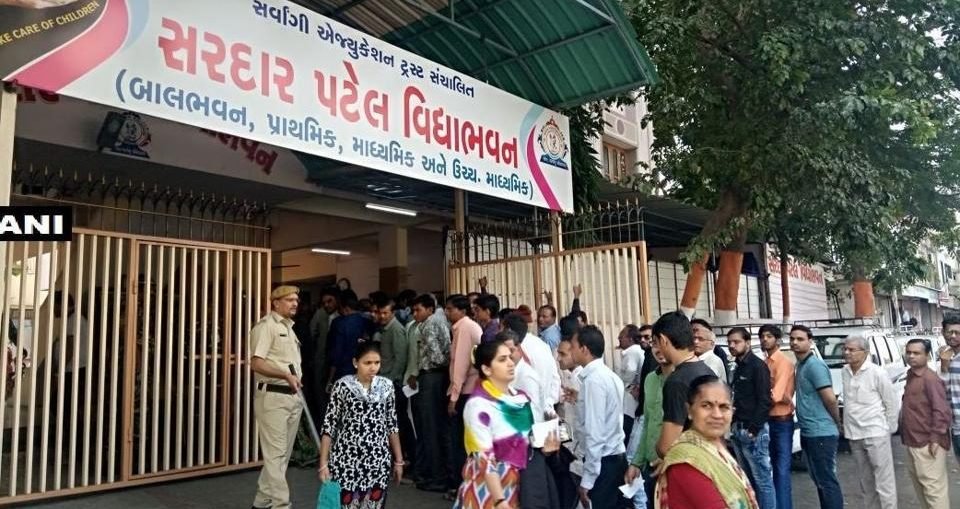 The Election Commission registered a 30,31% voter turnout at noon as the first phase of polling began on Saturday morning. It also ordered a probe into Congress' complaints over EVM glitches. Here are the live updates.
People wait while Election Commission officials replace faulty EVMs at Sardar Patel Vidyalaya booth in Surat's Varaccha.
The first phase of polling for the Gujarat assembly election began on Saturday morning, an important test for the ruling BJP that has been in power for 22 years in the state. Kutch, Saurashtra and South Gujarat will vote for 89 seats of the 182 seats.
The election is being held in two phases, with the second phase scheduled for December 14, and counting of the votes to be done on December 18.
The polling began at 8 am and will continue till 5 in the evening.
Here are the live updates:
2:42pm: An Election Commission team reaches polling booth in Thakkar Plot, Porbandar, to investigate complaints of EVMs connecting to mobile phones via bluetooth.
2:30pm: Rahul Gandhi also repeats his attack on Modi over the Goods and Services tax (GST). "Like Gabbar Singh's five weapons, the GST has provisions for five different taxes."
2:29pm: Modiji's government launched Make In India and Start Up India but could not do in one year what the Chinese can do in two days: Congress vice president Rahul Gandhi
2:25pm: At campaign rally in Patan, Rahul Gandhi attacks PM Narendra Modi over Amit Shah's son. "Modiji didn't talk about corruption in his speeches because the company owned by Amit Shah's son has a turnover of Rs 80 crore in three months from Rs 50,000."
2:21pm: This election is not about (Narendra) Modiji but about the future of Gujarat people, says Rahul Gandhi.
2:16pm: Congress vice president Rahul Gandhi campaigns in Patan's Harij ahead of Gujarat's second phase of assembly polling. "They (BJP) have everything – central government, UP government, Maharashtra government. The Congress party has nothing but the truth of Gujarat."
2pm: Union minister Jitendra Singh dismisses Congress party's complaint about EVMs. "Congress has made it a practice to say EVM malfunctioned every time when they face defeat. Therefore, they are preparing ground before December 18 to blame their defeat on EVM," ANI quotes Singh as saying.
1:55pm: Bhavnagar district collector, Harshad Patel, says polling has so far gone ahead peacefully. "There is no issue. At few places where machines had problems (have) been resolved; machines have been replaced wherever required," ANI quotes him as saying.
1:45pm: Voter turnout percentage at noon is 30.31%.
1:30pm: Another bride turns up at a polling booth to vote amid her wedding festivities.
12:50pm: Union minister Arun Jaitley predicts "landslide" victory for BJP. "Congress's campaign tactics have failed," ANI quotes him as saying.
12:40pm: Election Commission orders probe into Congress claim that some EVMs were connecting to mobile phones via bluetooth.
12:30pm: Congress reacts to Modi's comments about the attack on him. "Salman Nizami kaun hai hum jaante hi nahi (Don't know who Salman Nizami is). He does not hold any position in the party. We can also say that there is some random person Ram Lal in BJP who said something," says Congress MP Rajiv Shukla, according to ANI.
12:10pm: State information bureau says a 115-year-old woman has voted at Upleta.
12:03pm: Prime Minister Narendra Modi, who is campaigning in Lunavada, says, "In every part of the nation, the Congress has misled the Muslim community. They have made fake promises of reservations for Muslims but in no state have they fulfilled their promise."
12:01pm: Election Commission confirms average voter turnout percentage till 10 am is 13.38%. Nine third gender votes registered till the time.
Noon: I want to tell all Congress leaders who are abusing me, mocking my poor family, asking who my parents are – this nation is my everything. Every moment of my time is devoted to India and 125 crore Indians: Modi hits back at Nizami.
11:45am: "There is a youth Congress leader Salman Nizami, he is even campaigning for Congress in Gujarat. He wrote on Twitter about Rahul Ji's father, grandmother. That is ok but he asks – Modi tell me who is your Mother, who is your father. Such language can't even be used for enemies," Modi says.