Covid-19: Delhi cases spike to 7,700, highest in India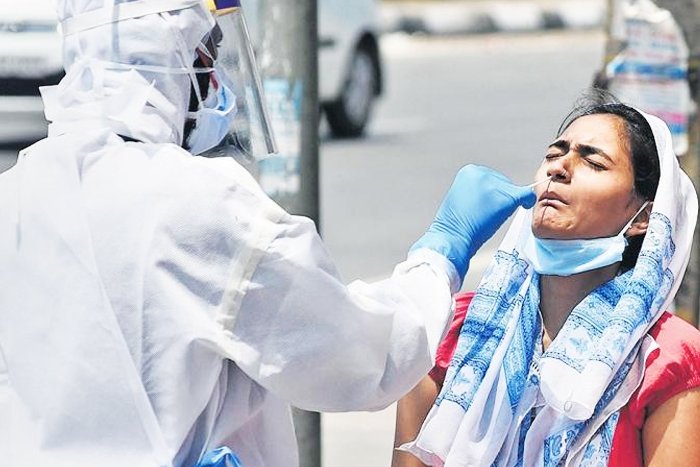 Covid-19: Delhi cases spike to 7,700, highest in India
Delhi recorded 7,745 new Covid-19 cases in the last 24 hours on Sunday, the highest single-day spike till date and the second time in three days that the number breached the 7,000 mark, reports Sidhartha Roy. The capital had recorded 7,178 cases on Friday. Sunday's tally was the highest in the country for the second time in three days. Delhi also reported 77 deaths. On average, there have been 60 deaths/day in November.
Sunday's record number of cases came from 50,754 tests, with the overall positive rate jumping to 15.2%. Of the total tests, 15,982 (31.4%) were done using RT-PCR method while the rest (68.5%) were Rapid Antigen Tests.
The total number of positive cases in Delhi now stands at 4.38 lakh and the total number of those who have recovered is 3.89 lakh. The death rate based on the last 10 days' data is 0.9%, according to the bulletin. The number of active Covid-19 cases is 41,857. The total number of Containment Zones is 3,878 at the moment.
The month of November has seen a spike in the number of Covid-19 cases, with the 6,000 mark breached on November 3 with 6,725 new cases and 7,000 mark crossed on Friday. The eight days of this month have already recorded 51,823 Covid-19 cases, 6,477 cases a day on average and total 478 deaths.
Meanwhile, health minister Satyendar Jain on Sunday told PTI that the capital was currently passing through the third and worst wave of Covid-19 so far but also said that the cases would soon come down. Jain ascribed the spike in the number of Covid-19 cases to aggressive testing and contact-tracing.
The effect of the spike can also be seen on the occupancy of hospital beds in Delhi. Out of the total 16,027 hospital beds, 8,072 (50.3%) are occupied. According to data shared by city hospitals on the Delhi Corona App, 80.9% of the 1,261 ICU beds with ventilators are occupied and out of the 2,044 ICU beds without ventilators, 1,641 or 80.2% are occupied.
Out of the total 8,107 beds in dedicated Covid Care Centres, 1,002 are occupied and out of the 527 beds in dedicated Covid Health Centres, 315 are occupied at the moment. The number of patients recuperating in home isolation is 24,723.
An expert committee headed by Dr V K Paul had said that due to the festive and winter season, Delhi was likely to witness 12,000-14,000 cases of Covid-19 a day.