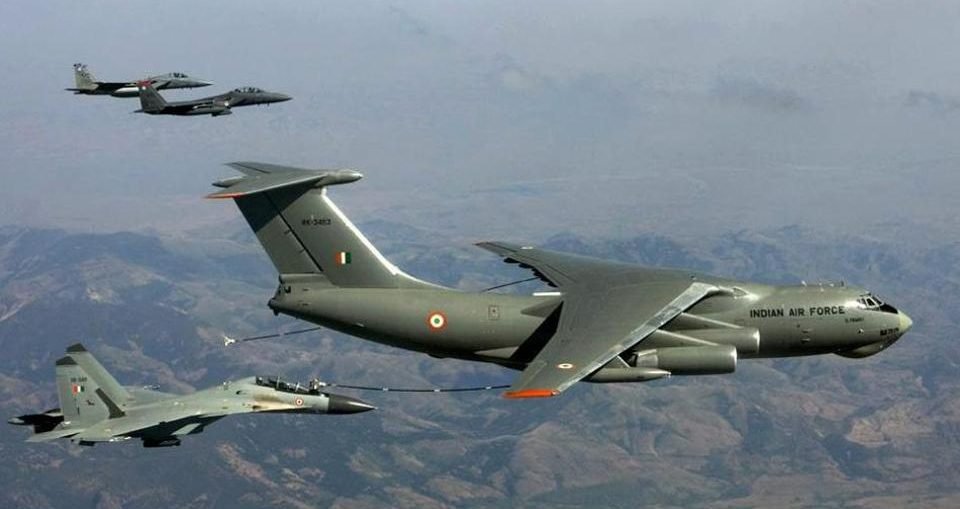 The base, to be located close to Deesa in Banaskantha district, will fill an important gap between Barmer in the north and Bhuj/Naliya in the west in India's defence capabilities.
Indian Air Force fighter planes during a training exercise. The new Deesa base is expected to cost upwards of Rs 4,000 crore.
The Cabinet Committee on Security (CCS) headed by Prime Minister Narendra Modi on Wednesday cleared a long-pending Indian Air Force (IAF) plan to set up a forward fighter base close to Deesa in Banaskantha district, near India's western border in northwest Gujarat, adding teeth to its military capabilities against Pakistan.
Defence ministry officials said on condition of anonymity that the CCS has cleared the initial investment of around Rs 1,000 crore to extend the runway, build fighter-pens and administrative facilities. "The proposal for converting the small Deesa airport with a 1,000-metre runway, which was used for helicopter landings and VVIP movements, has been gathering dust for quite some time. The fact is that 4,000 acres for the air base, which will plug the critical air defence gap between the Barmer and Bhuj air bases, was acquired nearly two decades ago. This decision was pushed by defence minister Nirmala Sitharaman," said one of the officials.
Although the defence ministry is tight-lipped about which fighters will be based in Deesa, it is a fact that the new base will increase IAF's ability to respond swiftly in case of any hostilities in India's western skies.
Two former IAF chiefs, who spoke on condition of anonymity, described the development as very significant. "The Deesa base will fill an important gap between Barmer in the north and Bhuj/Naliya in the west," said one of the two chiefs. "We have constructed a boundary wall there and have some personnel stationed there. It's time to get started now," he added.
The base will come under the Air Force's Gandhinagar-headquartered South Western Air Command (SWAC), which was headed by IAF chief Air Chief Marshal Birender Singh Dhanoa in 2014-15. SWAC's area of responsibility covers Gujarat, Maharashtra and Rajasthan, and Deesa will be the ninth base under it.
Setting up a full-fledged fighter base could eventually cost upwards of Rs 4,000 crore and it will be crucial for the government to earmark funds so that the project is not delayed any further, the former chief said.
Money will be critical at a time the Indian military is facing a fund crunch, as revealed in a string of reports tabled in Parliament this month. For instance, the IAF whose projected requirement in 2018-19 was Rs 1,14,526 crore received an allocation of Rs 65,891 crore.
Experts believe the new base will pack a tremendous punch for the IAF.
"Fighter jets have a finite range so extra bases are always welcome as more force is available when required," said Air Marshal Vinod Patney (retd), head of the Centre for Air Power Studies and a former IAF vice chief. "The IAF has been asking for Deesa for years. It's good news that the base is on its way to becoming a reality," Patney added.