As PM Modi Speaks At Red Fort, An Empty Chair Sends A Message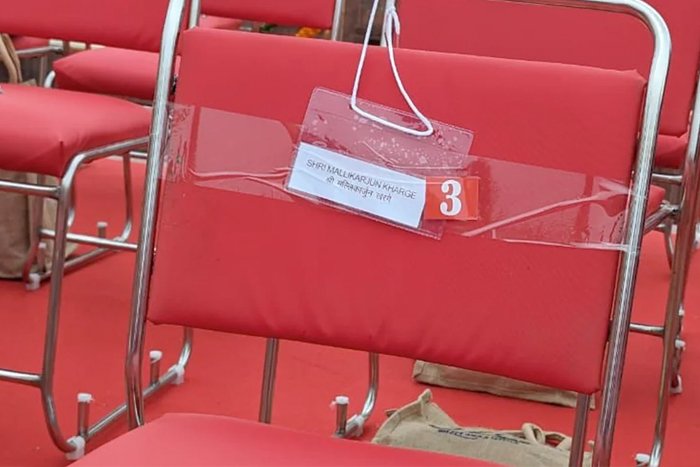 A chair with Mallikarjun Kharge's name was among the vacant seats at a section of the historic Red Fort where PM Modi delivered his speech. He was "not feeling well", said the Congress, explaining his absence.
Mr Kharge, however, hoisted the flag at the Congress office in Delhi, for the first time as party president. He also attacked the government in his speech – another first for any Congress president in many decades. The Congress has traditionally avoided any criticism or attack on Independence Day, said the party.
Mr Kharge said he could not go to Red Fort as he had an eye problem. He also said he had to hoist the flag at his home and then the Congress office. "With so much security for the PM, and then they don't allow us to leave until the Home Minister, Defence Minister and Speaker leave, so it would have been impossible to attend it,"said the Congress chief.
In his video message, Mr Kharge paid tribute to freedom icons like Mahatma Gandhi, Jawaharlal Nehru, Sardar Vallabhbhai Patel, Netaji Subhash Chandra Bose, Maulana Azad, Rajendra Prasad, Sarojini Naidu and BR Ambedkar.
He also highlighted the contributions of India's first Prime Minister Jawaharlal Nehru and other Congress PMs like Indira Gandhi, Lal Bahadur Shastri, Rajiv Gandhi, PV Narasimha Rao and Manmohan Singh in nation-building. He even mentioned BJP icon Atal Bihari Vajpayee.
"Every Prime Minister has contributed to the progress of the nation. Today some people try to say that India has seen development only in the past few years," the Congress president said, in an apparent swipe at PM Modi.
"Along with Atal Bihari Vajpayee, every PM thought about the nation and took many steps for development. It is with pain that I say that today democracy, Constitution and autonomous bodies are under serious threat. New tools are being used to stifle the voice of the opposition. Not only are there CBI, Enforcement Directorate and Income Tax raids, the Election Commission is also being weakened. Opposition MPs are being muzzled, suspended, mics are being muted, speeches are being expunged…"
Mr Kharge listed the creation of Indian Institutes of Technology (IIT), Indian Institutes of Management (IIMs), AIIMS, space and atomic research as signs of progress that he said were undermined by the current government. Nehru, he said, promoted art, culture, and literature in newly independent India.
The policies of Lal Bahadur Shastri and Indira Gandhi helped India become atma nirbhar (self-reliant), he said, using one of PM Modi's key mantras.
"Great leaders don't erase past history to create new history. They try to rename everything - they renamed past schemes, infrastructure projects, they are ripping apart democracy with their dictatorial ways. Now they are renaming old laws that established peace in the country. First, they said 'acche din', then new India, now Amrut Kaal - are they not changing names to hide their failures?" Mr Kharge said.
PM Modi, in his 10th Independence Day speech, attacked opposition parties, especially the Congress, as he described "corruption, nepotism and appeasement" as the three evils that the country needed to be freed from.
"Some problems became a part of our system in the last 75 years. Some parties follow dynastic politics and the party is of the family, by the family, and for the family," PM Modi said, not naming the Congress.
Article Source: ndtv.com