Air quality dips further in Delhi as fire counts cross 1,000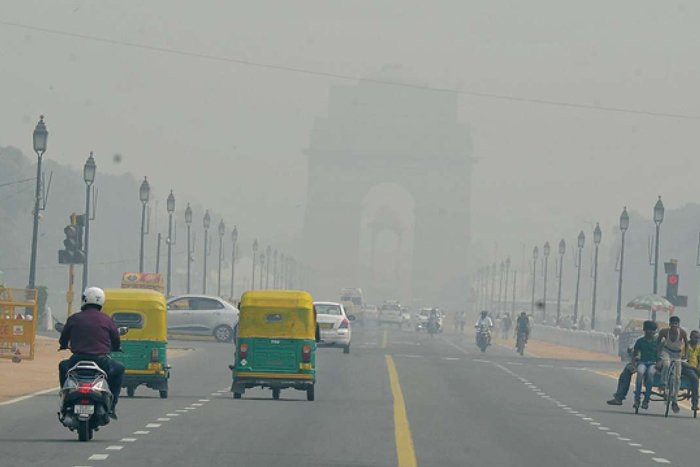 NEW DELHI: The air quality of Delhi marginally deteriorated on Friday but it is likely to worsen on Saturday. The fire counts in the neighbouring states rose from 502 on Thursday to 1,112 on Friday, according to System of Air Quality and Weather Forecasting And Research (SAFAR), the forecasting body under the union ministry of earth sciences.
The share of stubble burning to Delhi's PM2.5 rose to 20%, the highest so far this season.
The overall Air Quality Index (AQI) was recorded at 283 on Friday, as against 268 on Thursday. Rising farm fires, low temperature and calm wind during night are mainly affecting the air quality.
The minimum temperature dipped to 14 degrees Celsius, two notches below normal, on Friday. It is the lowest minimum temperature recorded this season. "Calm wind causes accumulation of pollutants and low temperature affects the dispersion of pollutants. North-westerly winds are favourable for transport of pollutants released from stubble burning to Delhi," said a Met official.
According to SAFAR, the highest farm fires (1,572) were recorded this season on October 15. The number of farm fires again crossed 1,500 on October 22 but it remained below 1,000 since October 23. The highest overall AQI this season was recorded at 298 on October 17.
SAFAR in its bulletin on Friday said, "AQI is likely to deteriorate further during the day until early morning of Saturday and then likely to improve marginally from Saturday evening onwards but will remain in lower end of 'very poor' to 'poor' due to slightly improved ventilation coefficient. The transport level winds and speed are highly favourable (north-westerly) for downward transport to Delhi and the percentage share of stubble burning in Delhi's PM2.5 has increased to 20% on Friday (fire count 1,112)."
Mahesh Palawat of Skymet Weather, a private weather forecasting agency, said, "The wind speed starts dropping from the evening hours and it becomes calm during the night, causing accumulation of pollutants and hampering the dispersion process." He added, "The wind speed is predicted to slow down during the day from October 31 to November 2 and if it happens, it may lead to accumulation of pollutants."
Tanushree Ganguly, programme lead, Council on Energy, Environment and Water, said, "Actions on year-round sources of pollution within Delhi, like transport, road & construction dust, and disposal of municipal waste need to be prioritised to avert poor air quality conditions. The Delhi government should also ensure that insights from the newly developed decision support system are actively used in planning and executing preventive measures, particularly on days when very poor and severe pollution levels are forecast."