Vande Bharat Train Driver Spots Stones, Rod On Tracks In Rajasthan, Hits Emergency Brakes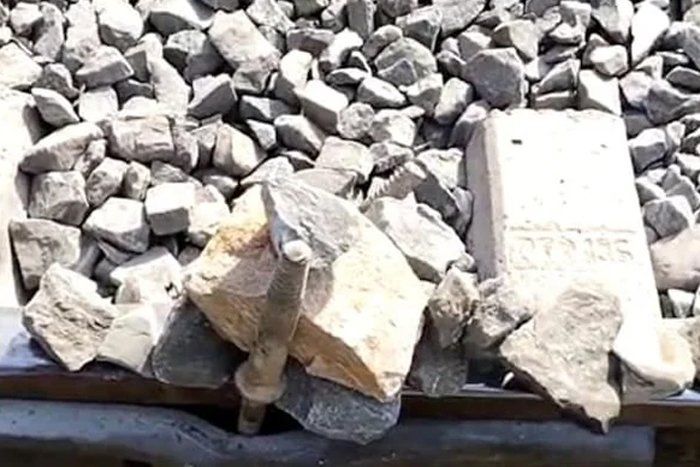 Jaipur: A loco pilot's presence of mind saved Udaipur-Jaipur Vande Bharat Express from a major accident. The train, which was inaugurated by Prime Minister Narendra Modi on September 24, was on its way to Jaipur when the driver spotted stones, some as large as a brick, kept on the tracks that could have derailed it. A video recorded at the spot shows railways staffers removing the stones from the tracks. It also shows an iron rod inserted between the fish plates, or joints.
The loco pilot spotted the debris around 9.55 am near Chittorgarh. He stopped the train using emergency brakes before it could slam into the stones and other things kept on the tracks between Gangrar and Soniyana stations.
A loose fastener was also removed by the staff members during a thorough inspection of the tracks. This comes on a day when the Prime Minister was in Chittorgarh to address a rally.
"There were two one-feet-long rods on the track. The loco pilot showed presence of mind and not only removed all the debris, but ensured that the entire stretch is free from obstacles. He also informed the control room after which teams of Railway Protection Force (RPF) and Government Railway Police (GRP) were sent to the spot," said Shahi Kiran, the Public Relations Officer (PRO) of the Railways.
He also informed that a case has been registered and action will be taken against anti-social elements who are found guilty after an investigation.
The video has shocked social media users, who have demanded strict action against the culprits.
The Udaipur-Jaipur Vande Bharat Express was inaugurated by Prime Minister Narendra Modi on September 24. The inauguration was done through video conferencing.
The train covers a distance of 435 kilometres in 6 hours and 15 minutes. Before its launch, other trains on the route took seven hours on this route.
This is yet another shocking instance with the semi-high-speed train that has the capacity to run at a speed of 160 kilometres per hour.
In May, stones were thrown on a Vande Bharat train in Kerala, between Tirunavaya and Tirur. The train was going to Thiruvananthapuram from Kasargod.
On April 6, a fresh incident of stone throwing was reported at the Vande Bharat Express from Visakhapatnam.
In January 2023, two window panes of the Vande Bharat Express train were left damaged after stones were allegedly thrown on its coaches near the Phansidewa area of the Darjeeling district.