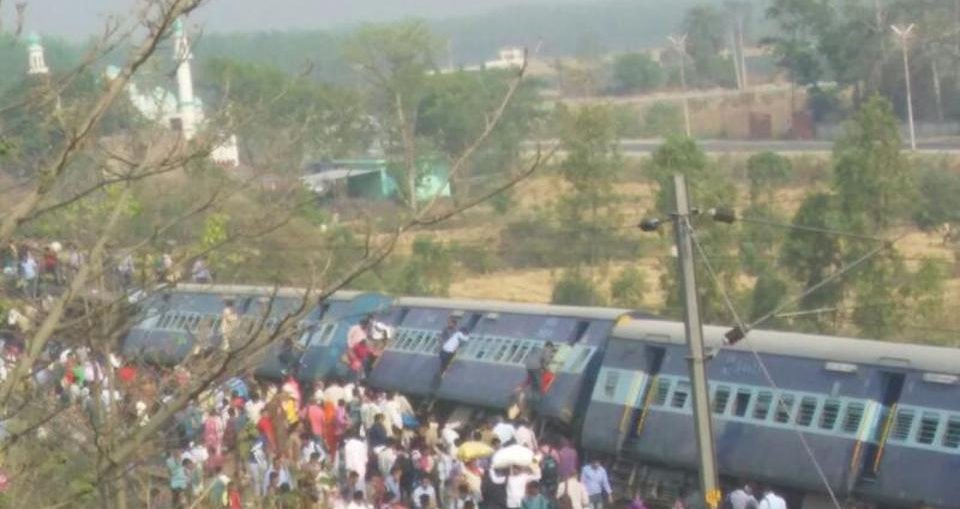 The derailment of the Rajya Rani Express on Saturday was the latest in a string of similar accidents the public transporter has suffered in recent months.
Eight coaches of the Meerut-Lucknow Rajya Rani Express derailed on Saturday morning.
The incident took place at 8:15am between Rampur and Mundapanda — near a bridge over the Koshi river.
No casualties have been reported so far.
Here are the Live updates: 
• Uttar Pradesh police say that a three-foot long portion of the railway track where the Rajya Rani Express derailed was missing and that the sabotage angle cannot be ruled out. "Sabotage cannot be ruled out," KK Chaudhri, Rampur SP, told PTI.
• The Indian Railways has arranged for buses for passengers. "Food and water have also been provided to the stranded passengers," says Northern Railway's spokesperson.
• The chief medical superintendent of the district hospital in Rampur says that 12 passengers were brought to the hospital with minor injuries. "They are in shock but their condition is stable and can be discharged by evening."
• Rail traffic on Rampur-Moradabad route to be normalised by 10pm, according to Moradabad DRM. The busy stretch sees high frequency of trains as it connects New Delhi to Lucknow via Moradabad. Bareilly is another important station on the route.
• Senior Samajwadi Party leader Azam Khan, with his brother, meets the injured passengers at district hospital in Rampur
• IG of anti terrorist squad, Asim Arun, said a team has reached the accident site and has begun probe to investigate if there was a possible terror angle to the derailment.
An explosion near Kalapipal, around 80km west of Bhopal, in a train's last coach left at least 10 passengers wounded in March this year. A suspected militant linked to the Bhopal-Ujjain passenger train blast was shot dead in Lucknow later that month.
• Railways ministry says all the stranded passengers are being taken to their destination and traffic along the route has been restored.
• Railway releases a list of injured passengers.
The injured passengers have been moved to district hospitals in Rampur, some five kilometres away from the derailment site.