Rahul Gandhi's new look at Cambridge University; Bharat Jodo beard now trimmed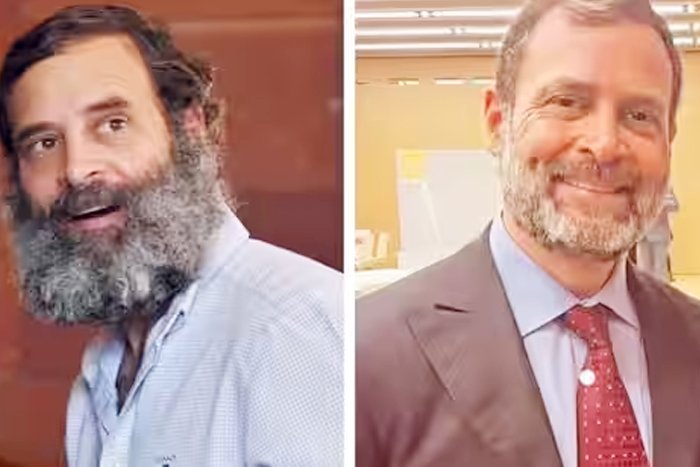 Rahul Gandhi did not shave his beard as he walked from Kanyakumari to Kashmir from September last year to January 2023. His long-bearded look triggered speculations about whether he was up for a conscious image makeover.
Congress leader Rahul Gandhi appears in a new avatar as he arrived in the UK on a week-long tour. He has trimmed his hair and his Bharat Jodo Yatra beard and was seen in suit-tie instead of his white t-shirt as he began his address at the University of Cambridge on the topic: Learning to listen in the 21st century. Several Congress leaders shared those photos of Rahul Gandhi's new look on social media.
ब्रिटेन पहुंचे श्री @RahulGandhi, कैंब्रिज यूनिवर्सिटी में देंगे लेक्चर, 'लर्निंग टू लिसन इन द 21वीं सेंचुरी' पर करेंगे चर्चा।#RahulGandhi #cambridgeuniversity pic.twitter.com/qzrscVkght

— Indian Youth Congress (@IYC) March 1, 2023
Rahul Gandhi in Cambridge. With a New Look 😎 pic.twitter.com/IUqOs93kDp

— Rajasthan Youth Congress (@Rajasthan_PYC) March 1, 2023
From rugged look in BJY to a polished fellow in Cambridge, @RahulGandhi is a perfect example of a new age politician pic.twitter.com/9j34mb43AP

— Dr Pooja Tripathi (@Pooja_Tripathii) March 1, 2023
Rahul Gandhi's appearance went through a drastic change during the five months of the Bharat Jodo Yatra as the Congress MP was always seen in a white t-shirt. His beard also grew in the five months as he decided not to shave during the yatra. All these contributed to the theory that Rahul Gandhi underwent a conscious image makeover.
Congress leader Pawan Khera recently said he was asked about Rahul Gandhi's beard – when Rahul Gandhi will be shaving his beard. In fact, Rahul Gandhi too faced this question earlier and he said it was because of the yatra and now that the yatra ended, he would think about it.
The 'Learning to Listen in the 21st Century' lecture is a student-only lecture where Rahul Gandhi also shared his experience of the Bharat Jodo Yatra. Rahul Gandhi will be part of another closed-door session on Big Data and Democracy and 'India-China relations' with Professor Shruti Kapila, an Indian-origin Fellow, Tutor and Director of Studies at the university's Corpus Christi College and Co-Director of the Global Humanities Initiative.
Over the weekend, Rahul Gandhi will interact with the representatives of the Indian Overseas Congress, the UK chapter, and will address an Indian diaspora conference in London.