Nijjar killing: Sikhs for Justice asks Hindus of Indian origin to leave Canada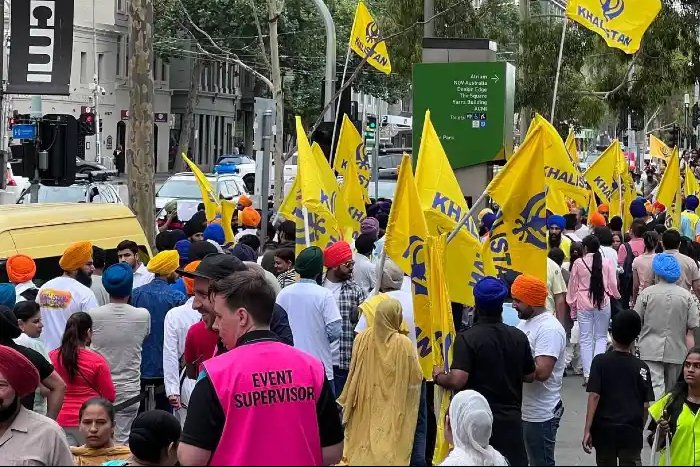 Sikhs for Justice (SFJ), a pro-Khalistan organisation banned in India in 2019, has threatened Hindus of Indian origin and asked them to leave Canada for supporting the country of their origin and "promoting violence" by celebrating Khalistani leader Hardeep Singh Nijjar's killing.
Vijay Jain, a spokesperson for Canadian Hindus for Harmony, expressed concern over Pannun's threat. "We are now seeing full-scale Hinduphobia out across the board."
Vandals allegedly associated with the so-called Khalistan referendum in Canada have been blamed for at least a dozen cases of desecration of temples with graffiti or anti-India posters. A petition has been pending before the Canadian House of Commons to recognise Hinduphobia in the glossary of terms in the Human Rights Code to describe anti-Hindu prejudice and discrimination. The petition has so far gathered nearly 9000 signatures.
Jain said Trudeau's remarks about India's alleged involvement in Nijjar's killing may stoke the sentiment. "We are worried that this may translate into the loss of Canadian Hindu lives as in 1985."
Jain's reference was to the Khalistani bombing of Air India Montreal-London–Delhi–Bombay flight in June 1985, which left 307 passengers and 22 crew members on board dead. It was the worst terrorist attack in Canadian history. Canada annually on June 23 observes the National Day of Remembrance for Victims of Terrorism in memory of those killed in the bombing.
In a post on social media platform X, commentator Rupa Subramanya questioned inaction over Pannun's threat. "If a white supremacist had threatened saying all people of colour must leave Canada, imagine the uproar. Yet when a Khalistani threatens Hindus in Canada at an event in Canada, everyone bats their eyelid and looks the other way."
SFJ has said it feels "emboldened" by the Trudeau government's recent actions of disengaging with India.
In an opinion piece in the Canadian national daily The Globe and Mail, Andrew Coyne called for the need to keep the peace domestically in the aftermath of Nijjar's killing. "There will be many Sikh Canadians who will be left shaken by Mr Nijjar's killing; some will be enraged, and some of them may be tempted to engage in reprisals of some kind." Coyne warned the risk of ethnic and sectarian bloodshed in Canada is real.
Canadian minister Anita Anand, who is a Hindu, appealed for calm. In a post on X, Anand said South Asians and families who come from India, regardless of religion, will share the sentiment that it was difficult to hear Trudeau's statement on Monday. "This is a time to let the legal process continue as it must. Let us all remain calm, unified, and empathetic."
Article source: hindustantimes.com