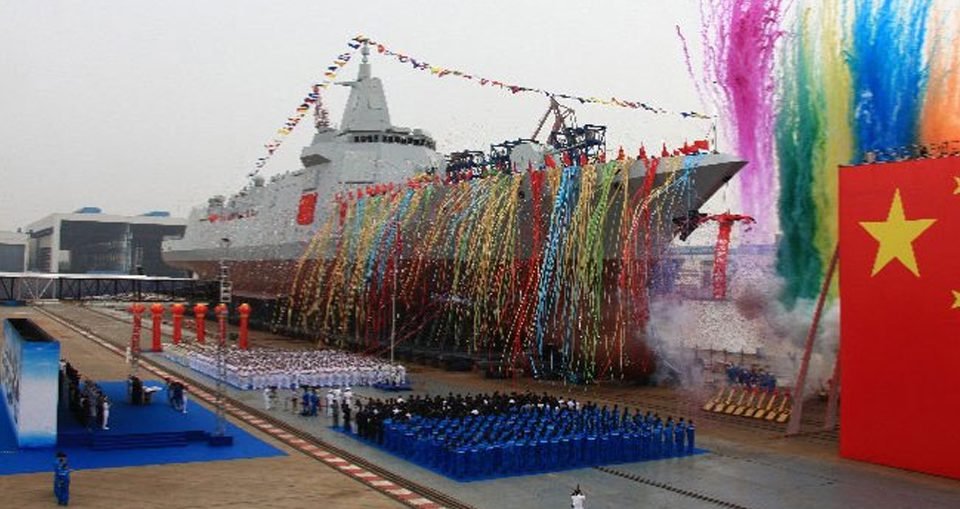 NEW DELHI: China today launched its most powerful naval destroyer, the Type 055, which is among the largest warships in the world.
China is building four of these destroyers, the first of which was shown off this morning at the Shanghai port.
Weighing in when fully armed at more than 12,000 tonnes, the colossal Type 055 is considerably larger and more powerful than India's latest Project- 15B "Visakhapatnam" class destroyers which have still not been commissioned. India's latest destroyers will displace close to 8,200 tonnes when completely armed and are designed to carry a mix of nearly 50 surface-to-air, anti-ship and land attack missiles. In contrast, China's giant cruiser will combine nearly 120 missiles, making it one of the most heavily-armed ships in the world.
Powerful phased array radars will help it focus on targets at sea, on land and in the air. The giant new warship is the most sophisticated design put to sea by China which has commissioned a host of new, advanced warships at a remarkable pace over the last five years. According to PLA Realtalk, an ope-source online platform which discusses Chinese military developments, "The 055 is expected to field a substantially more modern and more capable command and control and battle management system."
Since March 2014, China has commissioned five Type 52D destroyers thought to be similar in capability to India's `Visakhapatnam' class warships mentioned above. Worryingly for India, which has planned seven of these warships, China plans a fleet of at least 18 ships of this class.
Earlier this year, China launched its first indigenous aircraft carrier, construction of which started in November 2013. India's own homegrown aircraft carrier, the Vikrant (named after India's first aircraft carrier), in development since 2009, she sailed out for the first time in 2011, but is unlikely to be completed before 2023 according to a report last year of the national auditor.
China is presently locked in a war of words with the United States over its presence on artificially-created islands in the disputed waters of the South China Sea. India is an important maritime ally of the United States and shares deep concerns on the expansion of the Chinese Navy, particularly in the Indian Ocean. In the last five years, China has constantly deployed submarines (including nuclear submarines), warships and support vessels in the Indian Ocean.
In January this year, Admiral Harry Harris Jr., the Commander of the US Pacific Command said, "I believe India should be concerned about the increased Chinese influence. If you believe there is only a finite amount of influence in the region, then whatever influence that China has is influence that India doesn't have."