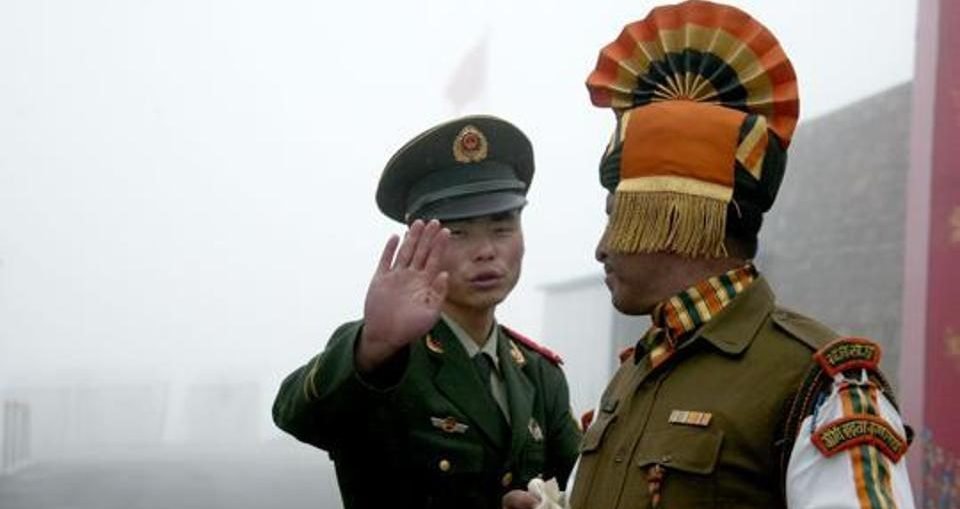 The consequence of this "intrusion" could be far worse than losing a drone, the state-run Global Times said in an editorial titled 'India must apologise for drone intrusion'.
A Chinese soldier gestures next to an Indian soldier at the Nathu La border crossing between India and China in 2008. On August 28, 2017, India said that troops were disengaging from a months-long stand-off with the Chinese military at Doklam.
The Indian drone that "intruded" and crashed in Chinese territory did so in the Doklam sector near the Sikkim boundary — the same location where border troops of both the countries were involved in a long and tense military standoff earlier this year — Chinese state media said on Saturday.
In an editorial titled 'India must apologise for drone intrusion', the nationalistic tabloid Global Times said the consequences for India could be far worse than losing a drone.
"The intrusion took place at the same location where a standoff broke off not too long ago between the Chinese and Indian militaries… In a time and at a location so sensitive, both sides should have avoided acting in ways that the other might perceive as provocative to prevent new frictions arising," it said, adding, "But India clearly did not behave itself."
On Thursday, China said an Indian drone "invaded" its airspace before crashing on its side of the border, prompting Beijing to lodge protests with India.
New Delhi attributed it to a technical problem with an unmanned aerial vehicle that was on a routine training mission.
Neither China's military nor its ministry of foreign affairs (MFA) said when or where exactly the drone had crossed over, except that the incident took place at the Sino-India border in Sikkim.
India and China were locked in a 70-day military standoff over work on a road construction in Doklam, an area under China's control but claimed by Bhutan. The matter was resolved in August-end when the two countries withdrew troops after Beijing indicated it had halted the work.
Experts in China had then told Hindustan Times that Beijing lacked deterrence against external provocation like the one it was exposed to in Doklam.
Saturday's editorial indicated that the standoff — and the fact that Indian troops were on territory claimed by China for 70 days — was fresh in Beijing's mind.
"Even if it is a technical problem, why is that technical problem happening at the exact wrong place and wrong time? If a Chinese drone flew into Indian territory due to a technical failure, would India accept an explanation that such an incident was a mere accident?" the editorial asked.
It noted that these actions show India's provocative attitude and China has the full right to respond as it sees fit based on the results of the investigation.