In US, Rahul backs India's position on Ukraine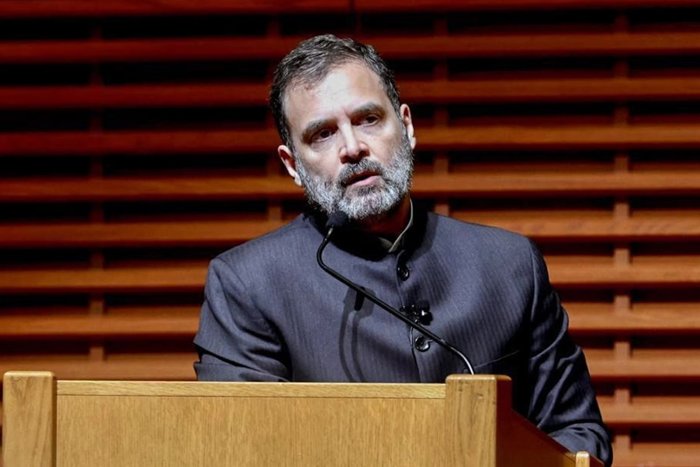 Washington: Congress leader Rahul Gandhi backed the Indian government's stance on the Russian war in Ukraine, said that democratic world had failed to come up with a vision to counter the non-democratic vision of China, and called for a new system of production and manufacturing where India and the US can work together.
While claiming that his disqualification from Parliament has offered him a bigger political opportunity than he had earlier, Gandhi insisted that his international engagements are not meant to seek support in India's internal political battles, a key criticism directed at him by the Bharatiya Janata Party (BJP).
During an interaction at Stanford University on Wednesday evening (Thursday morning IST), when asked about India's position on the Ukraine war, Gandhi offered the most categorical expression so far of his support for India's stance. "We have a relationship with Russia. We have had a relationship with Russia. We have certain dependencies on Russia. So I would have a very similar stance as the government of India…At the end of the day, we have to also look out for our interests."
Gandhi said that India's size meant that it would always have relationships with a large range of countries. "We will have better relations with some countries, evolving relations with other countries. That balance is there. But to say that India won't have a relationship with this set of people is difficult for India to do."
Gandhi is on a six-day visit to the US. After spending two days in San Francisco and the Bay Area, he arrived in Washington DC to engage with think tank community, diaspora, and press in the US capital on Thursday.
Gandhi said that when he joined politics in 2004, he never imagined he would be disqualified from Parliament. "To be the first person to get a full sentence on defamation, to get a maximum sentence, to be disqualified from Parliament. I didn't imagine that something like this was possible." But, he added, this had given him a "huge opportunity", a bigger opportunity than he would have had in Parliament.
Responding to a question on how the Opposition usually doesn't seek support from outside the country and he has gone "rogue" in some respects, Gandhi said that he is not seeking support from anybody. "I am very clear that our fight is our fight… But there is a group of young students from India here and I want to have a relationship with them. I want to talk to them. It's my right to do it. I don't understand why the Prime Minister doesn't come here and do it." Gandhi said that it was important for political leaders to put themselves in situations where they faced questions and learnt, and if that meant not being able to answer some questions or "occasional slip-ups", it was fine for he still learnt a lot.
On the theme of the US-China competition, Gandhi said that the Belt and Road Initiative (BRI) promised prosperity and a vision — "a non-democratic vision of the world" — but he did not see the actual crystallisation of a vision on the other side in terms of a democratic vision. "How do you compete with the production engine of the Chinese? What does a democratic system of production look like?" Gandhi said. This is where he said that the US and India could work together and leverage each other's strengths.
Describing the India-China relationship as "rough", Gandhi said, "They have occupied some of our territory. It's rough. It's not going to be an easy relationship…But India cannot be pushed around. That certainly cannot be allowed and it is not going to happen."
Gandhi also spoke about democracies struggling with concentration of wealth, growing inequality, and the inability of the political system to keep up with the pace of technological change and social media. "There is a bit of lag between the political system and technological progress and democracies are struggling with that…the systems are not designed for this level of connectivity. So it is going to take some time. But it will happen." Gandhi said that social media creates asymmetry of information and clusters people and creates silos with their own belief systems. "So it paradoxically reduces conversation."
On Wednesday, Gandhi also visited a tech incubator called Plug and Play in Silicon Valley that has 250 startups, said Praveen Chakravarty, chairman of the Congress's data analytics cell who is accompanying Gandhi during his US visit. According to its website, Plug and Play works across 20 industries, including advanced manufacturing, agricultural tech, animal health, brand and retail, crypto and digital assets, energy, among others.
According to a PTI report, Gandhi then participated in a fireside chat, where he spoke about the importance of a decentralised ecosystem for technology, the bureaucratic hurdles vis a vis drone regulation, and the need for appropriate data safety and privacy policies. In the context of the Pegasus spyware revelations, Gandhi claimed his phone was being tapped, and said, turning to his phone, "Hello Modiji."
Source: hindustantimes