Fugitive Amritpal Singh arrested from Punjab's Moga, taken to Assam's Dibrugarh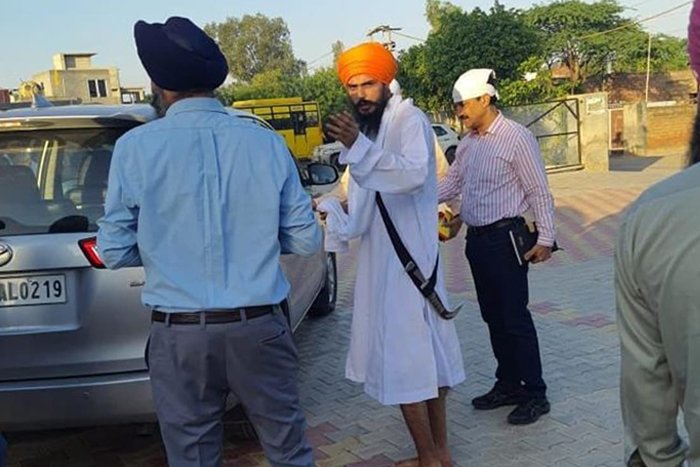 Amritpal Singh, the fugitive 'Waris Punjab De' chief, has been arrested from Moga's Rhode village in Punjab on early Sunday morning, the Punjab Police said.
While the Moga Police is yet to divulge details, police sources told HT that the pro-Khalistani leader is being shifted to Assam's Dibrugarh jail where other members of his outfit are already lodged.
Amritpal Singh has been arrested under the National Security Act. The arrest was done by combined efforts of the Punjab Police and national intelligence.
Earlier on Saturday, Union home minister Amit Shah when asked about Amritpal Singh's arrest and that he has been absconding for a long, said, "It may happen sometime. Earlier he used to roam freely, but now he cannot carry on with his activities."
Two more aides of the fugitive radical preacher and Khalistan leader Amritpal Singh were arrested at Mohali in Punjab, in a joint operation by Punjab and Delhi Police on April 18.
On April 15, Punjab Police arrested his close aide Joga Singh from Sirhind in the Fatehgarh Sahib district.
Another close aid of the pro-Khalistani leader, Papalpreet Singh was arrested on April 10, in an operation conducted by Punjab Police and its counter-intelligence unit.
The radical leader had been declared a "fugitive" while he was on a run earlier in March.
Almost a month ago, the Punjab police issued a lookout circular (LOC) and non-bailable warrant (NBW) against the 'Waris Punjab De' chief.
Amritpal has been on the run since March 18, the day Punjab Police launched a massive manhunt for him. The crackdown came almost over three weeks after Amritpal's supporters stormed Ajnala police station in Amritsar on February 23, demanding the release of one of his aides, Lovepreet Toofan.
source: hindustantimes