Eye on China, Jaishankar asks Global South to focus on self-reliance, supply chains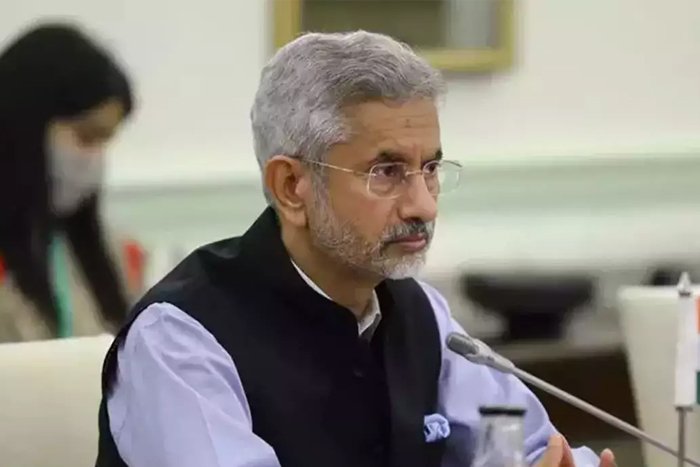 External affairs minister S Jaishankar said the Covid-19 era was a "stark reminder of the perils of dependence for basic necessities on far away geographies"
NEW DELHI: The Global South should focus on self-reliance by diversifying production, building reliable supply chains and promoting local solutions to overcome the "perils of dependence…on far away geographies", external affairs minister S Jaishankar said on Friday in a thinly veiled swipe at China.
Addressing a session for foreign ministers at the virtual Voice of Global South Summit, Jaishankar said there continues to be resistance to a greater role for the Global South in finding solutions to contemporary challenges despite wide-ranging changes to the world order.
Though Jaishankar didn't name any countries in his remarks, the reference to China was obvious when he brought up issues such as ensuring the reliability of supply chains and transparency of development projects. During India's G20 presidency, the country sought to project itself as the voice of developing countries, many of which had earlier been wooed by China through its Belt and Road Initiative (BRI).
The Global South, Jaishankar said, needs to work towards self-reliance to "mitigate our vulnerabilities vis-à-vis economic concentrations", since the Covid-19 era was a "stark reminder of the perils of dependence for basic necessities on far away geographies".
"We need to not only democratise and diversify production but build resilient and reliable supply chains and promote local solutions. Only then can the Global South secure its future," he said.
Jaishankar emphasised India's commitment to the Global South by pointing to an extensive range of development projects taken up by New Delhi in 78 countries. "These projects are demand-driven, outcome-oriented, transparent and sustainable. I assure you that this will only expand in its scale and scope in the times ahead," he added.
India will have the Global South at the centre of international partnerships as it embraces digital delivery, promotes green growth and ensures affordable health access.
He also highlighted the growing stress on the global economy, saying that long-standing structural inequities were aggravated by the pandemic and that the situation was worsened by the fuel, food and fertiliser crises arising from the Ukraine conflict. "Resource challenges, financial constraints, disrupted trade and climate events have added to our burdens. As a result, growth prospects are as daunting as the SDG (sustainable development goals) landscape is grim," he said.
Jaishankar noted that Prime Minister Narendra Modi said that India's priorities for its G20 presidency would be shaped in consultation with not just G20 partners but also the Global South, "whose voice often goes unheard".
He said: "India has since walked the talk, by hosting the first Voice of Global South Summit in January…to elicit and deliberate on the key concerns and priorities of the Global South. This, in turn, informed our approach to the G20 discussions throughout the year."
He emphasised key outcomes of the G20 Summit, including efforts to accelerate progress on SDGs through an action plan, a green development pact for a sustainable future, voluntary principles on green hydrogen, the Deccan principles on food security and nutrition, and the stress on digital public infrastructure (DPI).
"Perhaps, the most satisfying outcome of our G20 presidency was the inclusion of the African Union as a permanent member. By doing so, we have given voice to 1.4 billion people of Africa," Jaishankar said.
Addressing a second session for foreign ministers later in the day, Jaishankar said the Global South served as the anchor for India's G20 presidency by inspiring priorities and galvanising a "path-breaking consensus in a very diverse grouping".
The G20 Summit hosted by India brought the grouping's focus back to its original mandate of sustainable development. This is demonstrated by the consensus on the G20 Green Development Pact that envisages achieving major global agendas in an interconnected manner, he said.
The endeavours under India's G20 presidency will not end with the conclusion of its term on November 30. "With your support, it will continue to be heard as we work to realise our vision for a world where truly no one is left behind anywhere in the world," Jaishankar said.
Article source: hindustantimes.com