Election Commission announces dates for Assembly polls in 5 States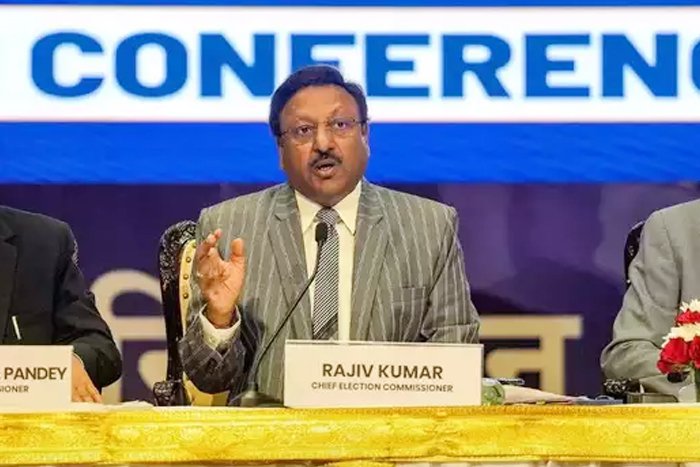 Chhattisgarh polls in two phases on November 7 and 17; Madhya Pradesh to vote on November 17, Rajasthan November 23, Telangana on November 30 and Mizoram on November 7; counting on December 3.
Chhattisgarh has 90 assembly seats, Rajasthan 200, Madhya Pradesh 230, Telangana 119 and Mizoram 40. There will be 20 seats going for the polls in the first phase on November 7 in Chhattisgarh. These are areas of high security concerns, largely infested by left-wing extremism, are Pandariya, Kawardha, Khairagarh, Dongargarh, Rajnandgaon, Dongargaon, Khujji, Mohla-Manpur, Antagarh, Bhanupratappur, Kanker, Keshkal, Kondagaon, Narayanpur, Bastar, Jagdalpur, Chitrakot, Dantewada, Bijapur and Konta.
"The commission has prepared the schedule for holding the general election to the Legislative Assembly of Chhattisgarh, Madhya Pradesh, Mizoram, Rajasthan and Telangana after taking into consideration all relevant aspects like climatic conditions, the academic calendar, board exams, major festivals, the prevailing law and order situation in the state, the availability of Central armed police forces, time needed for movement, transportation and timely deployment of the forces and in-depth assessment of other relevant ground realities," Mr Kumar said.
He added that for the first time a new Election Seizure Management System was being introduced for the Assembly polls to enhance oversight to ensure inducement-free elections. A total of 940 checkposts have been put in place for a strict vigil along inter-state borders and to dry up the inflow of illicit liquor, cash, freebies and drugs, he said. "There will be zero tolerance for the use of money power and there will be strict vigil over suspicious online cash transfers through wallets as well," the CEC said.
Nearly 16 crore voters would be eligible to cast their votes in these elections and the five states will have 1.77 lakh polling stations, of which 1.01 lakh will have webcasting facilities.
The political parties have already become active for the high-stakes polls that will see the Congress, which is in power in two of the four states, pitched against the BJP in a direct contest. To boost its chances in these states, the BJP had announced its list of candidates much in advance.
Expressing confidence that his party will form a government in all the states, BJP president J.P. Nadda said on X: "The BJP will form a government in all states with a big majority under respected Prime Minister Narendra Modi's leadership and will work with commitment to fulfil people's aspirations in the next five years."
Congress president Mallikarjun Kharge called for unity and discipline among party cadres ahead of the polls. "As we approach the upcoming Assembly elections and the general election, it is important that the party works with meticulous coordination and complete discipline and unity," he said at a meeting. Mr Kharge also said there is renewed enthusiasm among the cadre after decisive victories in Himachal Pradesh and Karnataka.
Article source: bawaal.in