Delhi Police files FIR against protesting wrestlers after detaining Vinesh Phogat, Sakshi Malik, Bajrang Punia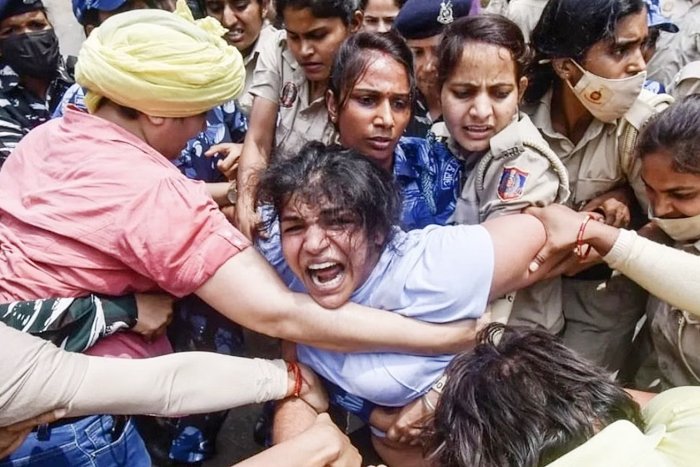 Protest site at Jantar Mantar being cleared by police after wrestlers and supporters were detained.
India's top wrestlers Vinesh Phogat, Sakshi Malik and Bajrang Punia, who had tried to march to the new Parliament building on Sunday, were first detained and later had FIRs filed against them for violation of law and order by the Delhi Police on a dramatic day in the capital. The police also cleared out the protest site at Jantar Mantar.
According to reports, the wrestlers have been charged under Indian Penal Code (IPC) sections 147, 149, 186, 188, 332, 353, Section 3 of the PDPP Act.
The wrestlers did not have permission to move towards the new Parliament building, hours after it was inaugurated by Prime Minister Narendra Modi. When they were stopped by police, an ugly scuffle broke out.
The high-handed action against India's top athletes was condemned by opposition political leaders and a few sportspersons like Tokyo Olympics gold medallist Neeraj Chopra as scenes of wrestlers being dragged by security forces were witnessed. The wrestlers and their supporters breached the security cordon ahead of their march towards the new Parliament building for the planned women's 'Mahapanchayat'.
Rio Olympics bronze medallist Sakshi Malik's team has posted a tweet saying Delhi police has detained the wrestler.
साक्षी मलिक को दिल्ली पुलिस ने हिरासत में लिया – Tweet by Team pic.twitter.com/GNYswmmU8F

— Sakshee Malikkh (@SakshiMalik) May 28, 2023
"Sakshi Malik has been detained by Delhi Police," Sakshi Malik's team put out a tweet from her account.
सभी पहलवानों और बुजुर्गों माताओं को हिरासत में लेने के बाद अब पुलिस ने जंतर मंतर पर हमारा मोर्चा उखाड़ना शुरू कर दिया है। हमारा सामान उठाया जा रहा है। ये कैसी गुंडागर्दी है ? pic.twitter.com/EfFedqLvTW

— Sakshee Malikkh (@SakshiMalik) May 28, 2023
Videos showed a scuffle breaking out between protesters and police personnel even as the former tried to resist. In one of the videos, a few female police officers can be seen forcefully dragging a woman away from the protest site.
The wrestlers protesting at Jantar Mantar, about two kilometres from the parliament building, had said they will go ahead with their "Mahila Mahapanchayat" near the new building at any cost.
"Mahapanchayat will certainly be held today. We're fighting for our self-respect.They're inaugurating the new Parliament building today, but murdering democracy in the country.We appeal to the administration to release our people detained by police," wrestler Bajrang Punia said.
Source: indianexpress