Delhi CM Arvind Kejriwal thanks CBI for their 'hospitality', says he was asked 56 questions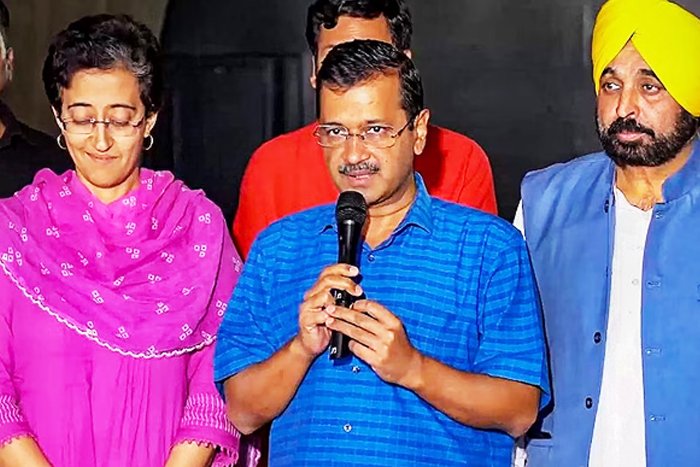 Delhi Chief Minister Arvind Kejriwal was questioned by the CBI on Sunday for about nine hours in connection with their excise policy. Kejriwal thanked the agency for their "hospitality" and said that he was asked 56 questions, all of which he answered. He also said that the BJP wants to finish the AAP "but it will not happen". 
Thanking the CBI officials for their "hospitality", CM Kejriwal said, "They asked me questions in a friendly and harmonious manner. I answered all the questions asked by them. The CBI asked around 56 questions regarding the excise policy, including when and why the policy was started." He was questioned by the CBI at the first-floor office of the Anti-Corruption Branch, where he reached around 11 am. 
He called the excise policy case false and said that the CBI did not have any evidence that the AAP is wrong. "It's a result of dirty politics," said the Chief Minister at his residence to the media. 
Kejriwal said that the AAP is an honest party and will never compromise on honesty. He said that the BJP can never match the good work that is happening in Delhi and has started to happen in Punjab. "They could not build even one school in Gujarat," he said. 
AAP has become a national party and is reaching every corner of the country. "They want us to vanish but it will not happen," he said. 
A one-day Delhi Assembly has been called by the Delhi government on Monday. However, LG VK Saxena has red-flagged 'procedural lapses' in summoning of the House. "I want the LG sahab to study the Constitution again or have some advisor who is well educated and has knowledge about it," he said.
Meanwhile, AAP leader and former Deputy CM Manish Sisodia is already in jail over alleged irregularities in the excise policy case. 
source: businesstoday.in