Delhi's Maximum Temperature Drops After Rain, Air Quality Best In 2023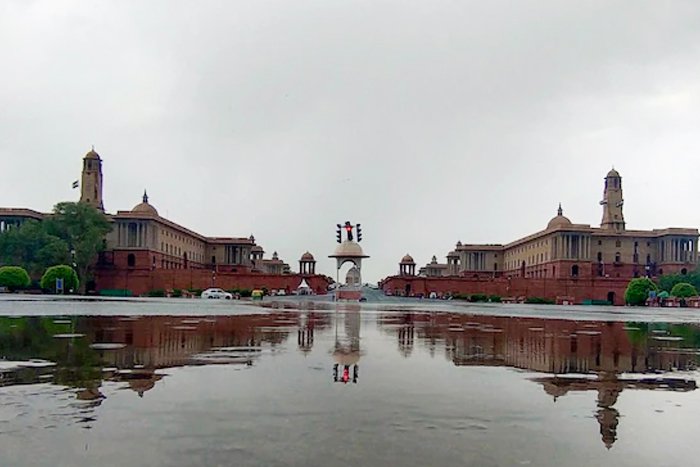 New Delhi: Rain and cool winds on Sunday brought the mercury down by five notches in Delhi with the maximum temperature settling at 28.3 degrees Celsius and ensured that the national capital registered its best air quality of this year.
An AQI between zero and 50 is considered 'good', 51 and 100 'satisfactory', 101 and 200 'moderate', 201 and 300 'poor', 301 and 400 'very poor', and 401 and 500 'severe'.
"Delhi today registered its best air quality of the current year with an average AQI of 45 ('Good' AQI category). Earlier, during this year, Delhi has recorded Air Quality Index of 54 and 59 ('Satisfactory') on 9th September and 29th July respectively," CAQM said in a post on X.
The minimum temperature was recorded at 23.5 degrees Celsius, two notches below the season's average.
The Safdarajung Observatory, the official marker for the national capital, recorded 1.3 mm rainfall between 8.30 am and 5.30 pm. The observatories at Palam, Lodhi Road, Ayanagar, Narela and Gurgaon recorded rainfall of 0.2 mm, 0.8 mm, 3 mm, 1.5 mm and 7.5 mm, respectively, during the period.
Humidity levels oscillated between 86 per cent and 100 per cent.
The Municipal Corporation of Delhi received reports of waterlogging from five places and of trees being uprooted from 16 locations. The public works department received calls regarding waterlogging from Mundka and Narela, among others.
The New Delhi Municipal Council's (NDMC) Disaster Management Centre received 70 complaints during the past two days. Of these, 26 were received late on Saturday while the remaining poured in by 11 am on Sunday.
The issues reported included incidents of minor waterlogging, fallen tree leaves and malfunctioning road lights, necessitating swift action.
Officials said 19 instances of waterlogging were promptly resolved at crucial locations, including Janpath, Sikandra Road, C-Hexagon, Copernicus Marg, Barakhamba Road, Harish Chander Mathur Lane and Kautilya Marg.
The accumulated water was removed through manual efforts and super-sopper machines. Additionally, water stagnating in potted plants at prominent areas was also removed.
The G20 Summit venue and most of the hotels where the delegates stayed are in areas under the NDMC's jurisdiction.
For Monday, the weather office has forecast generally cloudy skies with the possibility of very light rain or drizzle at one or two places. The maximum and minimum temperatures are likely to settle at 32 and 24 degrees Celsius, respectively.
The air quality is likely to remain in the 'satisfactory' category from Monday to Wednesday.
In a statement issued earlier in the day, Raj Niwas officials said Lt Governor VK Saxena thanked the "rain gods" who made the stay of the visiting dignitaries for the G20 Summit all the more special by bringing down temperatures and improving the Air Quality Index.