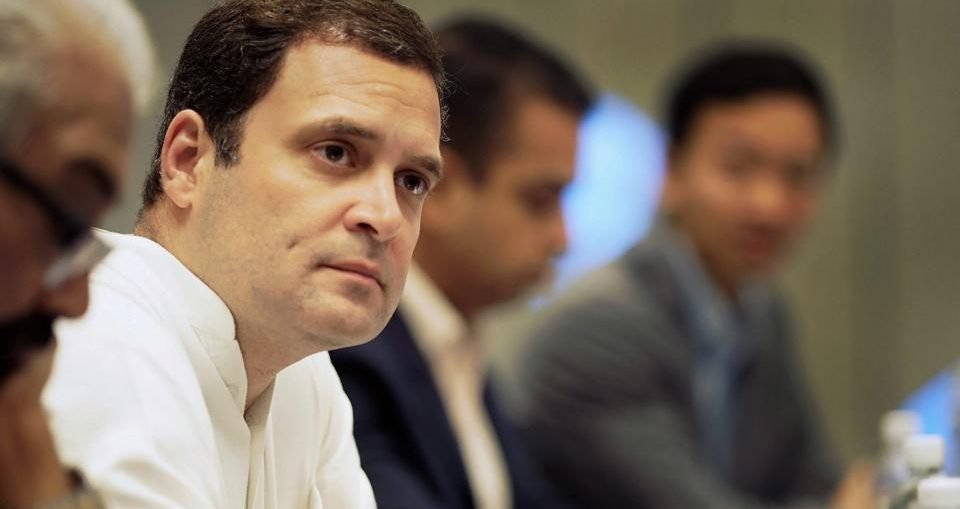 The plenary will also ratify 47-year-old Rahul Gandhi's election as Congress president, a requirement under the party constitution.
Congress president Rahul Gandhi during a meeting with Indian-origin CEOs of Singaporean companies in Singapore on March 8, 2018.
The focus of the two-day Congress plenary that begins on Saturday will not only be on the party's roadmap for the next five years but also on how to counter a seemingly invincible BJP under Prime Minister Narendra Modi in the 2019 Lok Sabha polls.
Being held after a gap of seven years, the theme of the 84th plenary session of the 132-year-old Congress party will be 'Change is Now (Waqt Hai Badlav Ka)'.
Under newly-elected Congress president Rahul Gandhi, the meet will also extensively discuss the prevailing political and economic situation in the country under the BJP government.
Rahul will set the tone with a hard-hitting attack on the BJP and talk about the allegations of corruption against the government in his opening remarks in a bid to re-energise party workers, said a leader familiar with developments.
The plenary will also ratify 47-year-old Rahul's election as Congress president, a requirement under the party constitution. On December 16 last year, he took over the party reins from his mother, Sonia Gandhi, who remained at the helm for more than 19 years.
A meeting of the subjects committee formed for the session, and which includes members of the steering committee that had replaced the working committee, approved four resolutions that will be adopted at the meet.
The political resolution will talk about the alliance strategy to be adopted in states and at the national level and also have a special focus on the role of former Congress presidents from the non-Gandhi family such as Subhas Chandra Bose.
The party will pledge its support to the demand for special category status to Andhra Pradesh, an issue that has prompted the ruling Telugu Desam Party (TDP) to quit the NDA alliance and move a no-confidence motion against the Modi government. The YSR Congress Party has separately moved a similar motion.
Apart from resolutions on economy, foreign policy, and agriculture coupled with unemployment and poverty alleviation, the plenary will pave the way for the reconstitution of the Congress Working Committee (CWC). Rahul is expected to take a call whether to go for elections or continue with the nomination culture to form the new CWC.
Rahul has also asked organisers to ensure that workers are given preference over leaders in speaking on resolutions, a marked departure from the practice generally adopted at such meets.
Apart from Sonia, former Prime Minister Manmohan Singh will also address the session.
The last plenary was held at Burari on the outskirts of Delhi in December 2010 when the Congress-led United Progressive Alliance (UPA) was in power at the Centre.