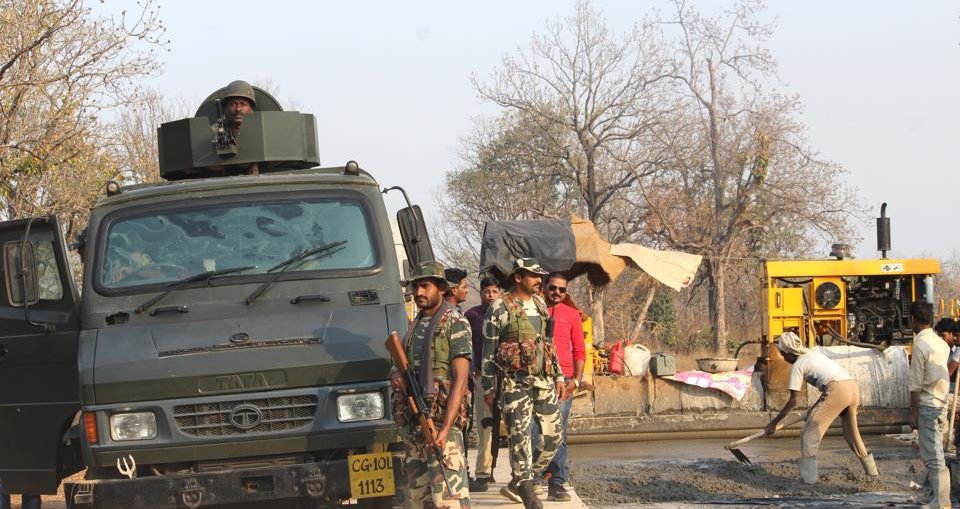 A CRPF road opening party at the Chhattisgarh ambush site where Maoists killed 12 personnel in March.
A nondescript stretch of road that disappears into a dirt track and a thick canopy of forests in the heart of Chhattisgarh's red corridor is at the centre of a bruising years-long conflict between the government and Maoist rebels.
The insurgents control the desperately poor region that has seen little government intervention or development in decades, and have struck security forces twice in two months to stop construction.
In March, suspected Maoist rebels ambushed a road-opening party of the Central Reserve Police Force (CRPF) and killed 12.
On Monday, the militants struck again, killing 25 in one of the worst attack on the force in seven years.
The midday attack, which occurred between the Burkapal-Chintagufa area in the Maoist hotbed of Bastar, is the worst in seven years. In 2010, rebels killed 75 CRPF troopers in the same region.
Monday's victims were part of a 99-strong team providing security to workers building the road.
The government says the increasing intensity of violence indicates one thing: That the rebels don't want any road links to pierce their stronghold of Sukma. For the rebels, the roads mean quick access for government troops into their heartland, and cancelling their turf advantage of hostile terrain and guerrilla warfare.