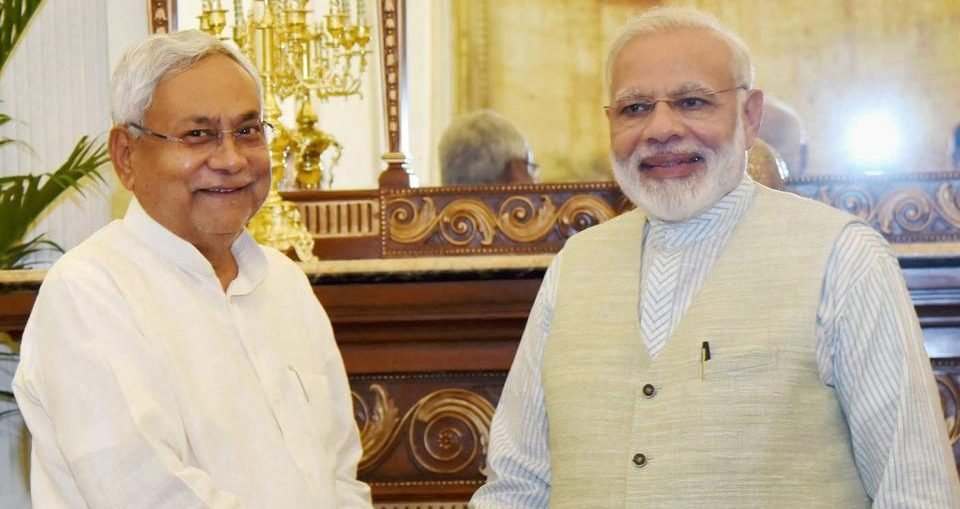 Bihar chief minister Nitish Kumar calls on Prime Minister Narendra Modi in New Delhi.
The JD(U) hit out on Tuesday at the Congress' "unfriendly and unwarranted" attack on its chief Nitish Kumar, wondering why the grand old party seemed bent on shortening the life of the Bihar grand alliance, where Lalu Prasad's RJD too has a stake.
With the JD(U)'s decision to back NDA's presidential nominee Ram Nath Kovind under intense scrutiny, spokesperson KC Tyagi also referred to his party's "natural" relations with the Centre's ruling BJP when it was part of the National Democratic Alliance.
He, however, insisted that there was no question of joining the saffron alliance.
Kumar's surprise support to Kovind led to flak from the RJD and the Congress. An aggressive Bihar chief minister, in turn, hit out at them over projecting Meira Kumar as the opposition's presidential pick.
Tyagi took strong exception to Congress leader Ghulam Nabi Azad's comments on the Bihar chief minister for his support to Kovind.
Azad had said on Monday that those who have one principle take one decision and those who have many take different decisions, a jibe apparently aimed at Kumar.
"Our support to Kovind is an isolated incident. Why are some people bent on making it permanent with such comments and shortening the life of our grand alliance?
"Azad's comments are not in good taste. These are unfriendly and unwarranted. We have never made critical remarks against Congress leaders," Tyagi told reporters.
To a question about the growing speculation about the JD (U) coming closer to the BJP, its ally for 17 years before they split in 2013, Tyagi said the ideological differences that caused their separation remain.
"Our relations with the BJP were 'sahaj' (natural) but we parted ways due to our ideological differences," he said.
He asked the RJD and Congress, his party's two allies in the Bihar government, to look beyond the July 17 presidential poll.