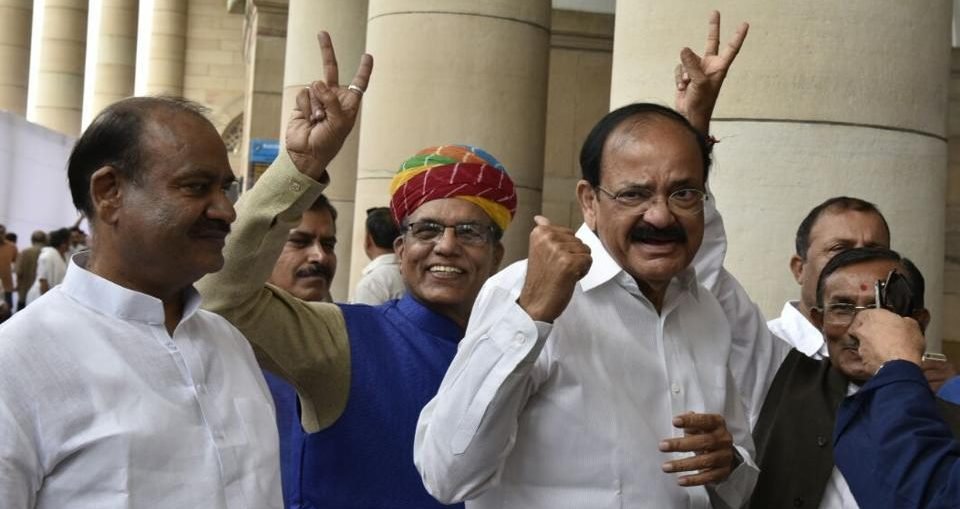 Venkaiah Naidu or Gopalkrishna Gandhi: The results of the vice-presidential election will be out on Saturday after counting of the ballot papers in the Parliament building.
Venkaiah Naidu after casting their vote during the vice-presidential election at Parliament.
Parliamentarians vote on Saturday to elect India's 15th vice-president. Polling will begin at 10am and the results will be announced by Saturday evening.
With numbers in their favour, the ruling NDA's candidate Venkaiah Naidu is likely to be elected as the vice-president. Naidu is pitted against Opposition candidate Gopalkrishna Gandhi.
According to the calculations by both sides, Naidu is likely to get 514 votes while Gandhi may get around 271 votes.
The term of the incumbent Hamid Ansari, who has held the post for two consecutive terms, will end on August 10.
Read | 16 MPs cast invalid vote in mock VP election, invite BJP chief Amit Shah's ire
The vice-presidential election is conducted through a secret ballot where the members of Electoral College — consisting of Parliamentarians — vote. The MPs will use special pens for marking their choice. Votes that are marked with any other pen are liable to be rejected. The ballot paper shall contain the names of the contesting candidates, but does not contain any election symbol.
Live updates
10:20am: Venkaiah Naidu, PM Modi cast their votes.
10:15am: Voting to elect India's next vice-president begins in Parliament: TV reports
10:10am: NDA's candidate (Naidu) is an experienced person, there's no competition as such between us,only technically there is, says Gopalkrishna Gandhi.
"It is a fight based on constitutional principles, where I maintained complete civility and the same has been done from other side too. Can't call it one-sided as there were two candidates, Meira ji got a lot of votes but only one emerges as winner." 
Meira Kumar was the Opposition's candidate for presidential election held last month. She lost out to BJP's Ram Nath Kovind.
10am: Prime Minister Narendra Modi reaches Parliament, reports DD news.
9:50am: Uttar Pradesh CM Yogi Adityanath and Congress leader Jairam Ramesh stand in queue for casting their vote ahead of the vice presidential election at Parliament.