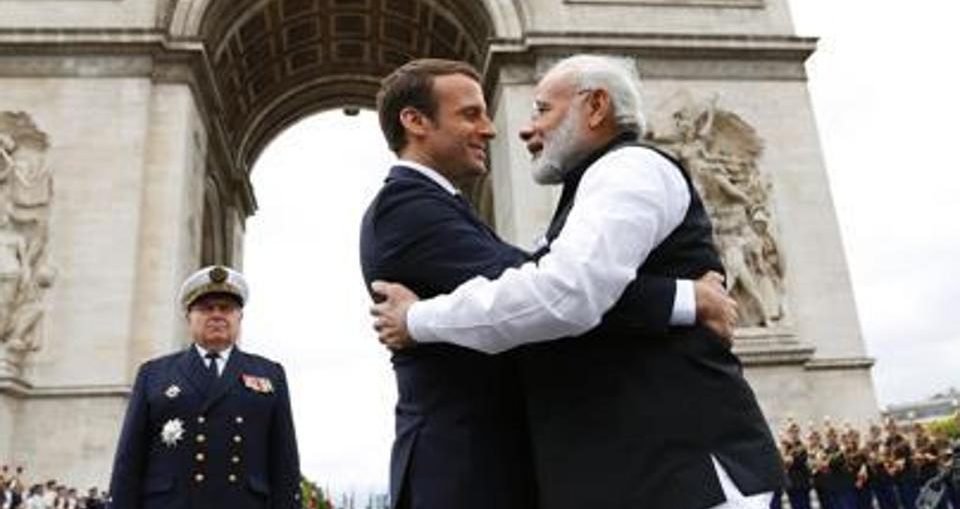 During French President Emmanuel Macron's visit to India, defence cooperation will just be one of the many substantive issues on the table.
Prime Minister Narendra Modi with French President Emmanuel Macron at the Arc de Triomphe, Paris, June 3, 2017.
French President Emmanuel Macron and his wife Brigitte begin a key, three-day visit to India on Friday. India sees France as a key partner, both politically and strategically, especially now, as an island of political stability and continuity in an increasingly uncertain world. The past year has seen great political upheaval not only in the United States of America with the arrival of a whimsical and often contrary president, but also across Europe, which has witnessed enormous political upheaval.
Britain, caught in the negotiating coils of Brexit, has little time for anything but its own woes with the EU. Italy has just shooed in an extreme-right, anti-immigrant, anti-EU political formation with gigantic question marks hanging over the type of government that will emerge. Germany, the powerhouse of the European Union, has returned Angela Merkel to chancellorship, but with a substantially weakened hand. Spain is locked in an internal separatist debate while countries such as Hungary, Poland or the Czech Republic are all moving towards the extreme right. Europe is in the midst of an identity angst.
It is with this backdrop that Macron, elected President with more than 65% of the vote and a thumping parliamentary majority for his Republique En Marche! party, comes to India for a State visit that is likely to produce several positives for both sides. Prime Minister Narendra Modi and President Macron will co-chair the founding conference of the International Solar Alliance, an Indian initiative first mooted at the Paris Climate Change Conference of 2015. Both India and France have pledged to substantially reduce their carbon emissions and work towards energy transition from fossil fuels to renewable energy.
The French have decided to invest wholeheartedly in India. The thinking at the Élysée Palace was that a strong signal should be sent to both China and India by getting President Macron to visit India before he went to China. That two-day visit, initially slated for December 2017, was postponed at the request of Prime Minister Modi who rushed off to campaign in the Gujarat elections in order to ensure a BJP win in the state. Had President Macron been able to stick to the earlier schedule, this visit would have had an even sharper profile. As it turned out, Macron went to Beijing in January, repeating the China first, India second trope. But this time around it was at India's behest.
France has given a cautious welcome to China's Belt and Road Initiative but Paris has concerns about the flexing of Chinese muscles in the entire Indian Ocean region, a key worry for New Delhi. A stronger alliance between Paris and New Delhi can only be in the two nations' interest. France has major Indian Ocean naval bases such as Djibouti or La Reunion and future strategic cooperation could persuade Paris to allow New Delhi access. Known as the forces armées de la zone sud de l'océan Indien (FASZOI), these highly trained and sophisticated regiments based on the islands of La Réunion and Mayotte have intervened several times in the Comoros, Rwanda and the Gulf of Aden. Security and military cooperation, arms purchases and defence contracts including transfer of technology as well as counterterrorism will be discussed when Modi and Macron meet and a logistics and defence exchange agreement on the lines of Logistics Exchange Memorandum of Agreement (LEMOA) could be signed during the visit.
France, which once treated India with benign neglect, considering it to be solely an Anglo-Saxon preserve, was late in waking up to India's economic and strategic importance. It was under President Jacques Chirac's 12-year mandate (1995-2007) that the relationship, which appeared moribund and mothballed at best, first began to flower. India now features high on the agenda with successive French presidents each making multiple visits to India with a quite remarkable consolidation of relations.
But there are also other substantive issues on the table. France is the ninth largest investor in India with about a thousand French firms operating in the country. Although large contracts are in the active negotiation phase for nuclear reactors (the 1650Mw EPR, six of which are being negotiated for the Jaitapur site in Maharashtra), nano technologies, cooperation over smart cities, railways, aviation and infrastructure, small and medium sized firms are still fighting shy of investing in India. Part of the problem comes from the fact that French SMEs do not often have experience of developing markets and despite Modi's Make in India efforts, India has still not shed its image of a country mired in corruption, red tape and a judicial quagmire.